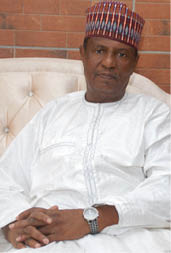 His Excellency, Baba Ahmad Jidda is the Nigerian Ambassador to the People's Republic of China.
In this interview with some Nigerian journalists in Beijing, he spoke on the growing Nigeria, China ties, September FOCAC Summit and other sundry issues. Ochiaka Ugwu was there for Peoples Daily.
Can you give us the overview of Nigeria, China bilateral relations?
Nigeria, China diplomatic relations started on February 10th 1971 which is 47years ago. By the year 2005 Nigeria and china signed strategic partnership and from there, the relationship blossomed from strength to strength. China is really a genuine friend of Nigeria and indeed of Africa.
About four Presidents of Nigeria have so far visited China, but the one that concerns me most is the visit of President Buhari who was here in April 2016. During his visit, he signed a number of agreements with the People's Republic of China and due to the signing of those agreements we have seen all these current projects in Nigeria; the railway projects that are going on, the improvement in the airport terminals and the currency swap agreement.
Recently, CBN governor was here and we signed the currency swap agreement and the intention to revive the Mambila Hydro project and all these come under the umbrella of the agreement signed by President Buhari and the People's Republic of China.
And the whole concept really comes under FOCAC, Forum for China Africa Cooperation and during the last summit of FOCAC held in Johannesburg in the year 2015, China pledged the sum of $60 billion to support African countries generally on developmental projects that they may require in their respective countries and Nigeria has benefitted tremendously from that provision.
As you know China was a developing country some 30-40 years ago and it is genuinely concerned about assisting developing countries especially those in Africa to also catch up with the higher economies of the world and China in its relationship with us is showing genuine friendship on equal basis. It is more of a win-win type of relationship.
Nigeria as a matter of policy stands by one China policy that is to say we do not recognise Taiwan as a country and that is why Taiwan does not have an embassy in Nigeria. So, we are strong adherence of one China policy and China is very happy with that and we believe that our relationship will go a long way in supporting numerous projects that government are currently embarking upon.
President Xi Jinping of China holds President Buhari in the highest esteem and regards such that Nigeria is very important partner of China. In September, President Buhari will attend the Forum for China, Africa Cooperation Summit and during that summit he is going to meet with President Xi Jinping on the sideline of the summit and a lot of issues will be discussed in order to enhance the already existing cordial and friendly relations between our two countries.
So generally speaking China is a very important to Nigeria today and we are going to ensure that our relationship gets improved upon more and more so that both countries will enjoy the partnership on equal basis for many years to come.
So we are here as ambassadors to make sure we improve the relations, we keep promoting the relation and we are going to encourage investors to go to Nigeria and invest as much as they can so that we would as a country drive towards manufacturing aspect of the economy.
It is good that China is giving us concessional loans to construct our railways and airport terminals and such other projects like Mambila but we will also pursue the establishment of manufacturing industries such that Nigerians will get ready employment and products will be produced in Nigeria and those industries will really open up the economy and make it more directly beneficial to the people of Nigeria.
And even as they are supporting us on the railway and so on, we want them in the future to consider the possibility of patronizing qualified indigenous companies that could also benefit from the award of contracts because right now all the contracts funded through concessional loan by the Chinese authorities are given to Chinese companies. You must have heard of CCECC, CGGC and CGCOC and these are all Chinese companies.
I am looking ahead of a situation where qualified indigenous Nigerian companies could start to benefit at least from some aspects of the contract.
Soon it would be one year you resumed here, can you briefly trace the number of high level delegations from Nigeria down to China or from China to Nigeria within this your time?
I submitted my letter of credence to President Xi Jinping precisely on the 14th of September 2017, that is exactly one month after I arrived Beijing and since my arrival high powered delegations too numerous to mention have come to China. I could remember vividly the visit of Emir of Kano and the members of his delegation on the invitation the Chinese authority, visit of the Governor of CBN for the currency swap and Governor of Cross River state with his delegation, several ministers have been here.
Last four weeks, I received a delegation of four ministers led by the Minister of Finance, Mrs Kemi Adeosun, with the Ministers of Power, Aviation and FCT. Right now, I have the Minister of State for Education. I received yesterday also the Minister of Environment he has left. Also, the Minister of Transportation, Rotimi Ameachi came here twice and left only last week and several other delegations that have come for one reason or the other and being supported and received and extended diplomatic courtesy by the embassy have come and are still coming. So I think the Chinese Embassy is one of the busiest embassies today in the world.
And again so many investors have left China and they have been to Nigeria on the invitation of either government agencies or of private concerns. So really, it is quite a busy time for us here at the Embassy and the atmosphere is to friendly and because we have facilitated all the issues and have got rid of concerns that would make it normally difficult for people to travel and that has facilitated the easy movement.
For example if you are coming to China and you are holding a diplomatic passport or official passport, you don't need visa and equally if you are a Chinese and you are holding diplomatic passport or official passport or what they call service passport, you don't need visa to go into Nigeria and this is one of the agreements signed by President Buhari when he came in 2016.
Also, there is this policy of visa on arrival which Nigeria has created to make things easy for Chinese investors to be in Nigeria and invest without much difficulty. So truly speaking, we are literally inundated by the official visits and including this visit now.
Only last 3weeks again Femi Adesina was also here on a delegation for some journalistic activities and just like on daily basis we receive visitors and some I would not be able to meet because of the busy schedule.
Right now I have the Executive Secretary of Petroleum Development Fund, who has come for the graduation of 70 Students in Guangzhou and I requested my consul general in Guangzhou to represent the Embassy.
FOCAC is on September and President Buhari will be here, what is the level of preparation towards this to ensure that we get something out of it particularly as our president will be represented?
President Buhari's visit is at the instance of the Chinese President, he invited our president just as he has invited all other African Presidents to attend the FOCAC summit and the FOCAC summit will hold on September 3rd and 4th.
So the Chinese government has the secretariat of FOCAC as chairman and South African as co-chairman. And so other embassies when you have your president coming you have some responsibilities and your responsibilities will be to prepare briefs for your president and send it to the Foreign Ministry to see and then you arrange the talking points for the president and for the Minister for Foreign Affairs and for the ambassador.
You would also be liaising with the Chinese authorities to ensure accommodation, reception and other issues that I made mention of like the side meeting we have and we have already requested for that and we also want them to arrange for President Buhari to visit the Three Gorges Dam and they have all these dams that we want him to see and how they have done it here and they want to do it for us in Mambila and maybe visit one other province on the arrangement of the Chinese authorities.
So we as an embassy, we have set up a planning committee and four or five other committees to handle the reception, protocol, vehicular movement, reportorial responsibilities and generally to see to the perfect administration of the reception pertaining to the visit of the president.
The three Consuls General that I have in China are all members of the planning committee. For example I have Deputy Ambassador who is chairing the committee and the Consuls General, three of them are members and some senior ministers also in the embassy are members of that planning committee and then there are sub committees reporting to them. This is internal embassy administration to ensure proper reception for the president on what the Chinese government would not do. So these are all protocols which we are more than capable of putting in place before the appropriate time.
But the most important thing is the FOCAC Summit and Mr. President would be discussing the issues of our railways, our relationship with Exim bank, with China Development Bank, with Cartfund, these are very important. Then he would discuss about the funding of the Mambila hydro project and he would also like to visit the Three Gorges dam. We are working on all these and we want to ensure that he has a meeting one-on-one with President Xi to discuss some of these issues.
So, basically we are looking forward to receiving Mr President in China and he will have more than he needs on what to say. We have a lot of data for him on his addresses, all his reports and we will receive him in this embassy here and we are currently working to get the place ready for him.
Since this is a busy embassy do you experience consular issues with Nigerians being involved in some issues?
Yes, that is why I told you there are three Consuls General. We have Consuls General in Guangzhou where 90% of Nigerians reside and it is far away, it is about four hours flight from here and we have Shanghai. It is the industrial centre of China and we have a Consular General there with Consulate and we also have Hong Kong and consular general there is actually an ambassador and he is also reporting to me.
Beijing itself doesn't have many Nigerians and with that they don't have much to do and so they are mostly in Guangzhou and in Guangzhou the consulate is handling consular matters.
But what has made even consulate issues even less problematic here is this policy of visa OIS, there is a company handling OIS and so they go online, they get their visa without really coming to them. So, we don't have problems here like you hear from other places. It is streamline, there is sanity and everything is online and it is transparent, so we don't really have much problems here.