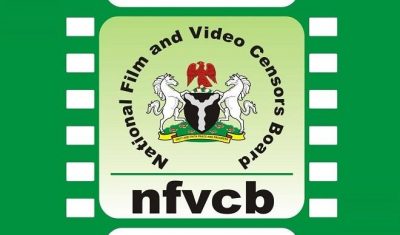 By Miriam Humbe
The National Film and Video Censors Board (NFVCB) has verified and approved yet another 85 movies for public and home viewing in the month of April, 2018.
Earlier in the year, the board had approved 75 movies for March, 60 movies in February and 44 in January 2018, bringing the total sum for the first quarter of 2018 to 264.
The classification ratings given to the 85 approved movies are viz:
"G" – General viewing,indicating for the general public.
"PG" – Parental Guidance, indicating for children with the Guidance of a parent or an adult.
"12A" – Indicating for persons under 12years accompanied by an Adult or a parent.
"15" – Indicating for persons 15 years and above.
"18" – Indicating for matured Audience.
According to the Head, Corporate Affairs of the Board, Mr. Etuechere Martins, of the 85 movies released for April, a total of 27 movies were verified and approved for home consumption, 13 for cinema exhibition and 46 online movies for both home and public viewing.
The NFVCB however warned consumers that the 85 movies approved contains violence, Imitable technique, Ritual, Strong Language, Fetish Practice, Drug Abuse, Ritual, Sex Scenes and Mystical Visuals.
Herein are some of the approved and verified movies:
"Blackrose" (English), "Chenchen Bobo" (Bini), "A Dance to forget (Efik), "Onitsha House wife" (English and Igbo), "Ayele" (Yoruba), "Abemwinku (Bini), "Bilal" (English), "Zoo million (English), "Divorce Not Allowed" (English), "Rampage" (English), "Talking Dolls" (English), "Tooth
Fairy" (English), "Sunshine" (English), "Spy" (English), "28 Days Later" (English) among others.
Mr. Etuechere who directed viewers to the board's website; www.nfvcb.gov.ng for full list of verified and approved movies, further stated that NFVCB was working closely with industry practitioners to ensure that only good quality movies that teach lessons and project our national core values, were released for public consumption.