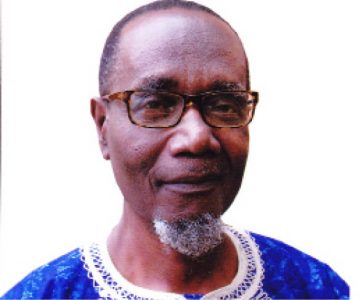 Wednesday GUEST COLUMNIST by Dr. Bisi Olawunmi
As Professor Victor Olufemi Adefela, pioneer Editor-in-Chief of the News Agency of Nigeria (NAN) celebrates his 80th birthday on June 18, 2018, it offers a unique occasion to pay tribute to a great Nigerian of impeccable integrity and disarming humility. In a Nigeria generally lacking in dedicated, disciplined and visionary leadership at various levels, Oga Adefela stands out, offering quality leadership at the operational take-off of the News Agency of Nigeria in 1978.
Most importantly, he laid the foundation of NAN as a credible national news agency, a rare feat among national news agencies worldwide, where such institutions become government megaphones.
Under his leadership, NAN went international in 1982 with the posting of the first three Foreign Correspondents to London, Harare (Zimbabwe) and New York, later expanding to Washington D.C., Moscow, New Delhi, Cairo, Nairobi, Abidjan, Belgrade, rising to a total of 10 Foreign Correspondents in 1988, the highest number for any media establishment in Nigeria.
It speaks eloquently of the enduring legacy of Prof. Adefela at NAN that 21 years after he disengaged from the agency, retired NAN editorial staff, under NAN Alumni platform, are hosting the book launch of their former boss on June 16 at NAN Media Plaza in Lagos as part of activities to mark his 80th birthday.
It is instructive that many of these NAN alumni members retired/resigned from the agency more than 15 years ago! But they remembered a good man, a teacher, a leader and a mentor. In every venture, foundation is key. Prof. Adefela laid a solid foundation for NAN right from the staff recruitment stage with applicants subjected to series of rigorous writing tests.
Of the five of us from Ogun State Broadcasting Corporation (OGBC) Abeokuta who applied for the jobs, I was the only one who made it. I applied for the position of senior correspondent, but got letter of appointment as a senior staff writer, a position that was not even advertised. Naturally, I was curious.
So, on assumption of duty, I sought audience with the E-in-C on this. He had told me that I did so well in all the tests that he decided to employ me as a senior staff writer in which capacity I can be deployed to any of the three areas of reporting, editing and feature writing. Such thoroughness in assessing applicants' scripts!!
I left his office in awe. And I eventually served in those three areas in my 18 years at NAN. Prof. Adefela, who holds a bachelors degree of University of Ife (now Obafemi Awolowo University) and a masters degree from the School of Journalism, Columbia University, New York, USA, is most remembered for laying the foundation for factual reporting at NAN – no embellishments – sustained through an effective quality control system such that NAN stories became the authentic reference point in situations of divergent news reports by various media outlets. In those days, the daily editorial conference was presided over by Prof. Adefela who had this uncanny ability to pick out the minutest of lapses in text.
Oga also edited spoken English during the editorial conference should there be a grammatical slip, cutting in, even before you finish your sentence, by pointing out, softly: you meant to say ….! But he never raised his voice. He was ever so calm. He instituted a dress code which made NAN reporters to stand out among their peers. He is not ostentatious and lives a simple life.
Prof. Adefela, who taught at Baylor University, Waco, Texas, USA and at University of Lagos, brought intellectualism to NAN editorial operation which impacted on staff under him such that NAN Alumni today boasts of three professors – Prof. Adigun Agbaje, former deputy Vice-Chancellor, University of Ibadan, Prof. Innocent Okoye of Kwara State University and Prof.Lai Oso of Lagos State University.
There are also two PhDs. Prof. Adefela served at continental level as Director of News at the Pan African News Agency (PANA) in Dakar, Senegal, on leave of absence from NAN, from late 1980s to early 90s and at various times between 1982 and 2008 conducted media capacity-building workshops in 16 African countries as a Consultant to World Health Organisation (WHO) and UNESCO.
Unfortunately, noise makers get more attention and recognition in this country, if not, a person of such high integrity who has made a significant contribution to a major institution of society like Prof. Adefela should have earned a National Honour a long time ago. It is not too late to rectify this oversight. I salute Prof. Victor Olufemi Adefela (VOA) on his 80th birthday and, on behalf of all NAN Alumni, say a big THANK YOU, SIR.
Dr. Bisi Olawunmi, former NAN Washington Correspondent, is Senior Lecturer, Department of Mass Communication, Bowen University, Iwo and Fellow, Nigerian Guild of Editors. Email: olawunmibisi@yahoo.com Phone ( SMS only) 0803 364 7571.