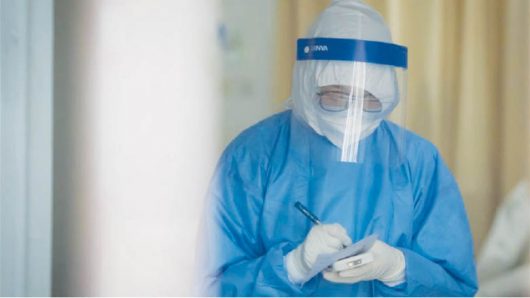 GUEST Column BY Ehizuelen Michael M. O.
After nearly two months' quarantine since COVID-19 outbreak in China, the Chinese-style quarantine model has finally been affirmed by the World Health Organization, saying that hundreds of thousands of people in China did not get COVID-19 because of this "aggressive response."
Some of the quick responses from the Chinese government range from filling the skies with drones to help share information, spraying disinfectant, delivering packages and taking people's temperature; releasing of robots which help medical staff to deliver door to door packages to various patients; keep kids at home of which over 20 provinces joined the "home-schooling" program, with over 12,000 primary and secondary schools and over seven million students attending classes through live streaming; work-from-home method; minimize human interaction; the use of tech platforms where 700 tech firms added protective medical equipment to their stock between January 1 and February 7; people making their cities virus-resistant by building emergency centers such as building hospitals to locking down an entire city to speedy national coordination of public action.
In countless ways, through these various methods, China is really setting a novel standard for outbreak response, and it is not an exaggeration but a fact that should be emulated and applauded.
This novel standard China is setting confirms why Chinese hospitals which were overflowing with COVID-19 patients a few weeks ago, at present have empty beds.
For instance, central China's Hubei Province closed its last temporary hospital in early March after all 15 such hospitals were cleared of patients. The last batch of 49 patients left Wuchang Hospital at 3.30 p.m. on March 10.
Wuchang Hospital was the earliest one to be put into use and also the first hospital to discharge patients and start psychological counseling. It offered 784 beds and treated 1,124 patients. It discharged 833 patients, transferred 291 others, and had no deaths or cases of medical staff being infected.
This means that China has proven that containment is possible. As such, it seems the China-style quarantine models the best precautionary approach to pandemic outbreaks.
While the number of nations affected augmented daily, the opposite has occurred in China. Cases are doubling in Europe every five days, which means Europe alone could have over 100 times the number of cases in a month if it is not contained properly. Italy could be considered the main source of the European outbreak, and presently Spain, Germany and France are close behind.
The Netherlands, Canada, the United Kingdom, Switzerland and the United States with over 3, 300 cases as of March 16, 2020 are close behind this second group. Therefore, as European nations, the United States and other parts of the world enter the acceleration stage of the epidemic, they have a fairly solid study with how to respond to the COVID-19 and that is by applying the China-style quarantine model. Italy has started applying exactly the China-style quarantine model, primarily.
Furthermore, some corporations from the U.S., the UK and Europe are imposing the China-style quarantine model by imposing a work-from-home policy and cutting off work travel. For instance, the Premier League, Champions League, Europa League have suspended games. WrestleMania which is one of the biggest sporting events is on the verge of cancellation. NBA has cancelled its entire season.
The NCAA (National Collegiate Athletic Association) has cancelled the 2020 Divisional men and women basketball tournaments. MLB – Major League Baseball has cancelled the remainder of spring training.
The PGA (Professional Golfer' Association of America) Tour cancelled the Players Championship. MLS (Major League Soccer) announced it is suspending for 30 days. The NHL put the rest of the season on hold. Major League Baseball is thinking of postponing opening day.
Broadway has postponed shows for a month. Private and Public collages are sending kids home for the semester. Princesses Cruises is not setting a course for adventure for the next 60 days. This is a testament that if the U.S., the UK, and European nations as well as the rest of the world follow the China-style quarantine model, it would usher a further decrease in the spread of the epidemic globally.
Therefore, I think it is never too late to learn from China and get this virus under control. This is because, since the outbreak occurred in December 2019, China's message to the world has always been tied to the people and lives saved.
As we build a global system linking all humans we should have it in mind that we need to make history now by adhering to the Chinese slogan of saving lives.
So that when we look back five decades from now, we can say that was the dawn of the era we are living in. An era where the community of shared future for mankind was established. Now is the time for us to support each other on a worldwide scale and China has a lot to offer if the rest of the world is open to listening and seeking help.
Ehizuelen Michael M. O. is executive director of the Center for Nigerian Studies at the Institute of African Studies,v Zhejiang Normal University. The article was earlier published by CGTN.