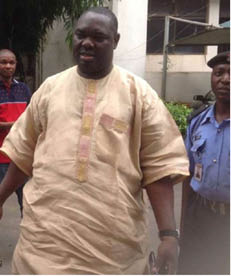 Former Super Eagles Chief Coach, Chief Festus Adegboyega Onigbinde has chastised the champions calling for FIFA to ban Nigeria because of the decision of the Supreme Court. They are majorly and purely doing it from selfish point of view.
Chief Onigbinde spoke with www.gongnews.net saying that it is so sad that the sacked President, Amaju Pinnick and his followers, could go to the extent of calling on FIFA to ban their country just because of their personal interests.
The CAF instructor who was among the football stakeholders who had a meeting with the Minister of Youth and Sports Development in Abuja on Wednesday noted that such call is so unnecessary, diversionary and not in the nation's interests.
He stated that Pinnick's board and others before them had and are still recklessly flouting the FIFA rules without anybody calling on FIFA to ban Nigeria. Is the use of the Directorate of State Security (DSS) not government intervention?
"There is nobody in Nigeria who is bigger than the Nigerian government. Those who are talking about FIFA ban and statute, I want to tell them that I can quote thousands of FIFA statutes which Nigeria has been flouting. But some people want to blackmail Nigeria by threatening us with FIFA ban for their own personal interest."
"For instance, article 19 of FIFA statute says that the governing board of any football body including clubs must be democratically elected. How many clubs in this country fulfill that provision? This means we don't have one single football club by FIFA statute. All we have are parastatals of government and private business."
"Another section says that, any football body must have a registered office. How many clubs have registered offices? I can go on and on and on. But this particular situation at the NFF headquarters is being used to blackmail Nigeria."
He argued that it is unreasonable to respect the regulation of an international body to the detriment of the Nigeria constitution and judicial system.
"Talking about FIFA ban, I am not a lawyer but is it unreasonable to respect the regulation of an international body to the extent of superseding the Nigerian constitution and judicial system? Is it proper? Does it make sense? Are we surrendering the Nigerian sovereignty? There are lots of things going wrong," he concluded.
Meanwhile, Minister of Youth and Sports, Solomon Dalung has earlier said Chris Giwa remains the Nigeria Football Federation (NFF) President as declared by the Supreme Court judgment on April 27.
The minister was reacting to FIFA President, Gianni Infantino's comment that the world football governing body only recognises Amaju Pinnick as president of NFF.
Dalung had made a comment on a social media platform where he described Infantino's comment as "blackmail against our national sovereignty carefully orchestrated to usurp our sovereignty. He was not obliged to answer. He has visited Nigeria many times more than his home country. So he should have been conscious of the self seeking trap set for him."
Infantino had, at a news conference in Russia, said that Pinnick remains NFF president and that the body would not accept any government interference in NFF's affairs.
Dalung, however, said he was not informed of FIFA's decision, adding that he was yet to receive any letter from FIFA that the body was only recognising Pinnick as president of NFF.
"FIFA has not written me that they recognise one person over the other and you know government does not operate on rumour, government is about administration.
"The leadership in NFF, I think is very categorical. The Federal High court in Jos has rolled orders, I, as a co-defendant was served with the order, ordering me to recognise Giwa as the president.
"That is the order against me and I have done that, the order to the Inspector General of police is that he should go and put Giwa in office. The Attorney-General of the Federation has done his job. So we are living under the rule of law and we are following the rule.
"If the court says today, Giwa is not the president of NFF and I'm served with a court order, I will obey. Don't forget, when Pinnick sued Giwa in the Court of Appeal and got judgment. I obeyed the judgment for over two years.
"Then, I didn't hear anybody talking of interferences. Government is not interfering, we are only acting according to court orders," he said.
Dalung advised FIFA to look deeper into the NFF crisis and assist to proffer lasting solutions rather than talking about interference.
The NFF has Chris Giwa as its president presently, owing to the compliance with court order.
Giwa had obtained Federal High Court Jos order to take over the running of affairs at the NFF in compliance with a Supreme Court order pending the final determination of the suit before her.
The apex court had directed all parties involved in the matter to return to the lower court for another look at the case against NFF's 30th September 2014 elections in Warri.
Justice Ambrose Allagoa had ruled that the Warri election is illegal, null, void and of no consequence in law. The matter was not appealed against.
Giwa had insisted that his earlier election at the Chida Hotel in Abuja should stand, while Pinnick's election in Warri took place contrary to laid-down regulations.