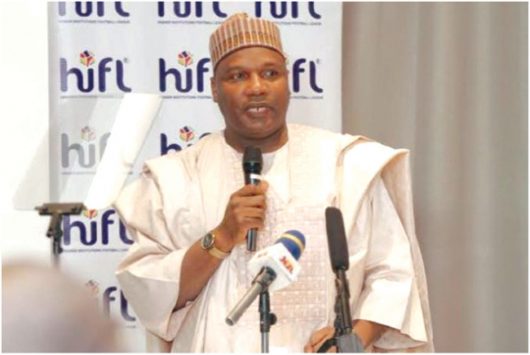 By Amaechi Agbo
The 2018 CAF Awards might have come and gone but the ripple effects on Nigeria football have continued to resonate.
For the first time in as many years, many football followers in Nigeria were left flabbergasted when the Africa Best 11 Team for 2018 was released and there was no single Nigeria player in the list.
This would be the first time in many years no Nigeria player featured in the CAF Best 11. In 2017 edition of the event, two Nigeria Players, Victor Moses and Leon Balogun were among the Best 11 for the year. In 2016 edition, Alex Iwobi and Kelechi Iheanacho made the bench.
Unfortunately, in the recently held edition of the award in Senegal, no single Nigeria player was considered good enough to be included.
This, consequently, has elicited reactions among stakeholders in Nigeria football.
Expressing his views on the development, a one-time Football Association Chairman of Gombe State, Alhaji Gara Gombe put the blame squarely on the doorsteps of two prominent football administrators in the country, Amaju Pinnick, NFF President and Shehu Dikko, LMC Chairman.
While he vehemently disagreed that Nigeria players were schemed out due to CAF football politics, he however regretted that Pinnick and Dikko have downgraded Nigeria football such that she can longer be respected among the comity of football nations.
According to him, "Exclusion of Nigeria players from the CAF XI is not about politics; no. If we really want to reclaim our position in CAF and Africa football, we have to start now, we should not wait till next year. it has nothing to do with CAF politics. Those days when we were winning, was there no politics? We had the best and we got the reward. Are we now saying that it was politics that gave Amunike the Africa Player of the Year? Or Kanu Nwankwo that won it twice, is it politics? It is not politics. They deserved it.
"Now tell me, which of the Nigeria players would you pick and say he deserves to be nominated for the Africa Best XI?
"For me, it is not about politics. Even the Best Africa Female Team award that Falcons got, it was a consolation. We don't deserve it. That award could have gone to Equatorial Guinea. I watched their matches and they were better that us. That we won the Africa Women Cup of Nations does not mean anything. If there is anything we can call our birth right, it is the AWCON. We have been winning so much that it is no longer attractive. I wonder why whenever we win it, people are celebrating. Why would you be celebrating a tournament you have won nine times yet you have not gone beyond the quarterfinals in the World Cup?
"We won the inaugural of the FIFA Under 17 World Cup in 1985 in China; that is 33 years ago, yet we have not gone beyond the second round of the World Cup. These things accumulate to what is happening to our football today. We are interested in competitions; we are not developing our football. Once we don't develop, we will go nowhere. We are passing through a transition. That last set of players who went to USA 1994 and Atlanta '96, that is where we missed it.
"We missed the transition because there is no development programme for our football. There is no technical department in NFF as far as I am concerned. We don't have a technical programme to develop our players and football in this country. So when that set of '94 and '96 disappeared, there was nobody to come up. Our best players and the players we think are our best eleven are nowhere. Our highest goal scorer and the captain are playing in China. People read current affairs not history.
"Those who are selected in the Africa Best XI deserve to be there. There is no Nigerian player that merits to be there. We are so inconsistent. Is it Odion Ighalo that scored cheap goals in two matches that should be there or Ahmed Musa that will score two goals in five years in a major tournament? We are not developing.
"Again, the league has been bastardised. We don't have a league. We only have a competition where people go and play and share money and go. Team officials share money, LMC share money and referees share money and everybody goes home. We are just producing millionaires in our league we are not producing footballers. That is the irony.
"Pinnick and Dikko have downgraded almost everything in our football. The chairman of the league is the Vice Chairman of the reform committee. They are destroying the league. Forget the two tournaments because they will beat them silly. Where are the players? The highest goal scorer in the country is playing in China and he scored 21 goals in the Chinese League last season yet his club was relegated. Ahmed Musa is no longer doing well in Saudi, your captain is in China, he is planning for retirement; he does not even know where nest. So where are the players?
"If we should tell ourselves the truth, let us prosecute this Nations Cup with our local players even though the league is not stable. But we can get good players to play the Nations Cup. We should forget the foreign players; they cannot serve any purpose.
"Already, everything is downgraded. Of course he knows that we will do well in the Nations Cup more than the World Cup because he is thinking we are going to France to make up the numbers. We hardly get out of the group stage in the World Cup. His attention is in the Nations Cup because he believes we can find a way to crawl and get to the quarter or semi-finals. But I don't see that happening.