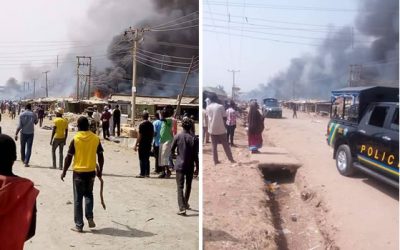 By Stanley Onyekwere
The Vice Chairman, Abuja Municipal Area Council (AMAC), Lawerence Onuchukwu has visited and consoled Igbo traders affected by recent Christmas Eve violence in Bwari Area Council of the Federal Capital Territory (FCT).
Recall that the mayhem that heralded the 2017 Christmas celebrations in Bwari, resulted in three deaths; destruction of goods and shops in the main market in the area. The FCT Administration has since imposed a curfew in the area, to curtail the situation.
Onuchukwu, who described the incident as unfortunate and avoidable, urged the victims to be patient and peaceful, even as they struggle to recover from the tragedy.
He assured them that the government and other stakeholders are intensifying efforts to ameliorate their plight.
According to him, what was needed is patience and cooperation, to ensure all dislodged traders bounce back and continue trading in the area.
During the visit, the AMAC Vice Chairman announced the donation of one hundred thousand naira to a five-man committee set up to interface with the leadership of Bwari Council on remedying the situation.
Responding on behalf of the affected Igbo traders, Chief Benedict Ugwu, while thanking Onuchukwu for the visit and words of encouragement, said it will help bring the needed succour to them.
Ugwu, who disclosed that there are 300 Igbo traders affected by the incident, appealed for urgent government intervention to help them restart life.
He said: "We need the government to urgently come to our aid, as we have no where to earn a living from. We are hopeless and helpless in the area.
"Some of us lost goods supplied on credit or bought with loans from banks and individuals.How would we be able to pay back our debt?