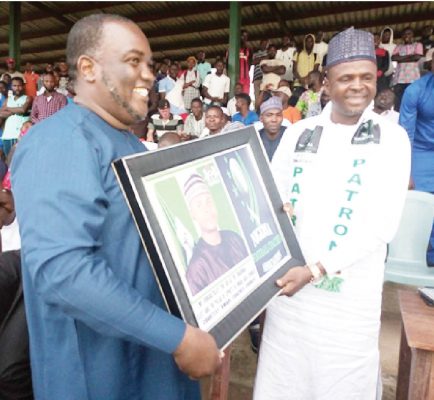 By Amaechi Agbo
The Executive Chairman, Bwari Area Council, Dr John Gabaya, has pledged total support to the actualisation of the newly proposed Abuja Football Village.
The 2nd Vice Chairman, FCT Football Association and Chairman, Bwari Area Football Association, pledged the support at the unveiling of the Football Village during a novelty match organised in his honour by the FCT Football Coaches Association.
Dr John who appreciated the association as well as the FCT FA, commended the project adding that his government will support in its realisation
"I appreciate the FCT Coaches for coming out to honour me. Indeed, I am humbled. The presence of the FCT FA Chairman overwhelmed me and I appreciate him.
"You people have showing me love, the Bwari Area Council pledges support to the FA. I promise you that the Executive and Legislative arms of Bwari Area Council are united and we are working together. And we understand the paramount roles of the youth and the need to keep them engaged.
"Sports in general and football in particular is germane in keeping youth engaged and reducing vices and other social imbalances in our society. It is on this basis that we give premium attention to the youths and sports development is a sector through which we want to realise this.
"Time has gone when sports or football is played for the fun of it. No. today, football has become a profession, a career and it has provided food and employment to many and we are going to explore this.
"Therefore, we will help in every way possible in the realisation of the Abuja Football Village, which will be the first of its kind in Nigeria if not Africa. I promised this earlier and I am reiterating, today forward, my name is 'Talk and Do'. When I say I will do, I will make sure it comes to pass. I will make sure that activities of football in Bwari Area Council will keep on growing every day. We have seen the support of the FCT FA and the coaches association and I will tell you that it is not only in Bwari Area Council that things like this are happening. With the more support we will be getting from the FCT FA, I want to tell you that at our local level, we will try our best to see that the Football Village project is realised.
"I thank God for the FCT FA board for this great honour and the Chairman for being present, it is a great honour. We are going to give support to Bwari Area FA, we are going to give support to the entire FCT FA Board.
"With the Abuja Football Village proposal, I have so many roles to play. We have started and we will continue. I will give my maximum support to this particular project which has been proposed. I will give100 per cent support to the project to make sure that it comes to conclusion," he said.
On his part, the FCT FA Chairman, Adam Mouktar Mohammed thanked the Chairman for his visionary leadership in the area and promised that the FCT FA will work hand in clove with his administration to promote football in the Council.
"The project unveiled is a noble project that will help grow football and it will be situated in this great Area Council of Bwari. Bwari will lead the light in football during my tenure and we will do whatever it will take to support Bwari youths here to succeed. We will work hand in glove with the administration to ensure that the growth and development witnessed in the Area is sustained.
"We honoured him with a novelty match to appreciate him for the good work he has started even though he is just barely few months in the helm of affairs. He is our own, a friend and leader who has distinguished himself. We must give honour to whom it is due. We are all lovers of football and stakeholders and we are happy to be in Bwari Area Council. We have seen how other organisations have honoured him.
"Bwari Area Council is my constituency and every activity going on here I am duty bound to try and attend and show support which they have shown me. John Gabaya, the Bwari Area Chairman is a very good man, a very honourable man. We are just few months old in the saddle and we are rolling out our plans step by step. By the end of our tenure we will be judged and I believe we will come out in flying colours," Mohammed said.
The Abuja Football Village, when completed, will have a mini-stadium, four standard football field, seven five-aside fields. It will have parking lots, reserved areas as well as hostels that can take not less than 5000 thousand athletes. The Village will be useful for different programmes not only for football. It will also have a multipurpose hall. It is going to be actualised through the cooperation and collaboration of different organisations but the FCT FA is spearheading it because it has to do with football. It is also going to be modelled in public Private partnership, that is, the PPP model.