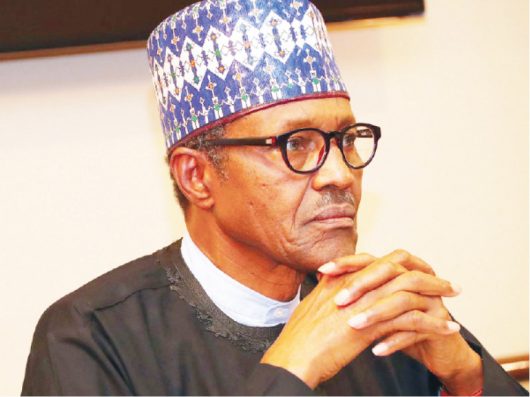 THURSDAY Column with Mohammed Adamu
(08035892325 sms only) | dankande2@gmail.com
Parliament –especially- in Nigeria behaves always like a woman of easy virtue. And that is even if you only refer to the commonplace whoredom whereby prostitutes, to eke a living, get paid by total strangers to be laid. But the Sarakis, in 2015, took bipartisan parliamentary whoredom to a whole new sordid level. To grab the Senate Presidency, they had not only accepted to pay to get laid, they were in fact raunchily sodomized; not by total strangers, but by their hunky political enemies, the PDP. After Saraki's parliamentary coup de main, leading to his rebellious emergence as Senate President, I wrote a piece, 'Buhari's Baptism of Fire', relieving in it what lessons the President should've learnt, from neglecting to invest in the politics of the emergence of a party-loyal leadership for the Eight Assembly. And I said in that piece, that in spite of being virtually a child of popular revolutionary circumstances, the Saraki-led APC Assembly, had still to its credit the infamy of adding a heady new dimension to the repertoire of inanities that the Nigerian legislatures are generally famed for.
Caesar's Roman Parliament had taught legislators the vilest coup de tat: that by knives and daggers greedy legislators may bleed 'ambitious' sovereigns to death. But Saraki's mutinous APC minority, driven quite inordinately by both greed and lust for power, had taught the world a new species of parliamentary mischief, namely sleeping shamelessly with the enemy in order brazenly to overcome and humiliate family. We saw how, in defiance of party objective, about 19 hot-panted APC senators went to bed with 49 street-wise PDP others in a mutinous orgy of sort to hijack the Senate. And for their excellent randy services, these PDP hunkies got paid with the plum position of 'Deputy Senate President. They had almost added sedition and treason to the abiding roguery that the NASS had already been notorious for.
After having been electorally browbeaten in 2015 by the APC, PDP was almost then on the verge of its nunc dimitis, politically. The nation was almost preparing for the funeral rites of the old, now fangless (or so we thought) behemoth that had been knocked down by an underdog. But this was not to be. Soon Saraki's treacherous coup at the Senate was all the oomph that a dying PDP would need to be newly risen, like the Biblical Lazarus, back from the dead. The APC had gotten the enemy right on the canvass, and then its apostate Saraki wing of the political family had gotten him right back on his feet even before the count out had stated. For their personal self-aggrandizement, and at the expense of party unity and cohesion, this tiny minority was so brazenly self-destruct it had no qualms giving a dying enemy the political kiss of life. It was a political treachery no less abominable than if fellow men of God had conspired behind the biblical David to give a dying Goliath Cardiovascular Pulmonary (mouth-to-mouth) Resuscitation (CPR).
Meaning that just now you had won the war and had liquidated the enemy, but just now again you had to rise and be newly armored, to go to war and to engage in more searing battles to kill the enemy all over again! In Saraki's case it has now taken the whole of Buhari's first four years before the APC, at the last polls, has succeeded again in killing the enemy a second time. But just like in 2015, the dimly-lit embers of a once smoldering PDP opposition has been lying vengefully in wait, in the ashes to burn the feet of the ruling party again. And many Nigerians have been wondering, would the APC be as foolishly un-suspecting in 2019 as it was in 2015? Will history be repeated and the APC would be careless enough to step on the ashy red-hot charcoal so that Buhari will have to limp again through another four years with a terrible ulcer on his underfoot? Because we see now that the languid tail of the scotched PDP snake is back at its death-defying trademark again. It is angling desperately to lure to bed a new renegade strain of the APC family headed by Senator Indume. Down but not out, this scotched snake of the PDP is ululating lecherously, and a hot-panted Indume and seventeen other senators we are told, are getting ready to pay again to be sodomized by the enemy. And you can safely say that if NASS truly is a woman of easy virtue, then its whoredom, it appears, is latent only in the bitchy, libidinous minds of silly, imprudent section of its disunited APC fold.
Nonetheless it is cheering that at last Mr. President has made the difficult leap from a democrat to a politician, and has anointed those who should lead the 9th Assembly. Contrary to the rebellious opinions of many politicians on this subject, it is well within the President's democratic and political right to do so. It is not undemocratic for a president to be interested in who is elected to head any of the two chambers of the Legislature. Because democracy in addition to whatever it has come to be associated with-theoretically and practically- is also about consensus-building. When parties who have the democratic right either to vote or to be voted for, freely and consensually agree about who to govern their affairs, it obviates the need even for 'voting' -unless 'voting', in the circumstance, is a substantive requirement of law.
Between a President, a ruling Party and majority of its members in the Legislature, a consensus about how to share elective offices whether arrived at 'unanimously' or achieved by the will of a 'simple' or 'special majority', whether by 'acclamation' or by 'shadow election', is nonetheless democratic and in fact can sometimes even be binding in law. Democracy is governed as much by laws as by time-honored conventions. Most of the powers that presidents in presidential democracies wield reside often more in conventions than in the Constitution. And woe betides the president who insists on the strict application of the 'letters' of the law in his dealings with the legislature, to the utter disregard of un-written conventions some of which –often through the ferment of democratic age- can also acquire the force of law.
The President has learnt from having been 'once bitten'. And it appears he is not prepared to be 'twice twice'. But from the vibes of dissent and the imminence of rebellion that have been oozing from aggrieved serving members of the 8th Assembly and even incoming members of the 9th, Buhari has to do more than just talk. He has to walk the talk to instill party discipline.
POSTSCRIPT
The Eight Assembly was the one that they had warned us Tinubu was plotting to pocket. But this was the Senate that they had handed over to the dogs. And poor Tinubu; he was concerned about a progressive leadership at the NASS that would harmoniously work with Buhari to drive the change agenda; but the hawkish reverts from PDP had told the nation that he was the one we should be wary about. But after four virtually wasted legislative years, we now know those to be wary about. It is still not Tinubu. It is those who hate the guts of Tinubu. They are the same now who are still raising that alarm, of a 'stealthy' Tinubu plotting to impose his men on both chambers so he can pocket the legislature. But I had said when I wrote, after Saraki's ascendancy, 'Tinubu's Right of First Refusal', that:
"Those who ask 'what does Tinubu want?' cannot claim not to know that the Jagaban has always wanted this: namely to bring the progressives into power, who in turn should bring about 'good governance'…. If Tinubu wanted to influence the election of NASS leadership so he could control the legislature –as they had alleged- the question will then arise 'to what end would he have desired to do that'? Was it to subvert the government that he has dedicated the greater part of his political life to bring about? Or was it to do so in aid of it? Well then although Tinubu did not succeed in controlling the legislature, nonetheless the legislature has still fallen into the grip of two upstarts who have still managed to find their way to pull the trigger on us all. Meaning that if we do not deal with a 'meddlesome' Tinubu, we'll now have to deal with the perfidious duo of Saraki and Dogara".