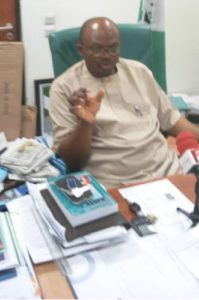 •Says OBJ is the greatest anti-June 12 crusader
Rt. Hon. Israel Ajibola Famurewa, a two terms member of the House of Representatives, was a lead contender for the Speakership at the twilight of the 8th Assembly, but succumbed to persuasion to step down in the interest of the party. A trained Engineer and seasoned politician, Famurewa in this interview with Christiana Ekpa speaks on the conferment of the highest national award on the late MKO Abiola, Former President, Olusegun Obasanjo as anti-June 12 crusader, giving insight into the forthcoming gubernatorial election in Osun State and other national issues. Excerpts:
How will you describe President Muhammadu Buhari's decision to confer the highest national honour on late Chief MKO Abiola?
I can say I was one of the happiest persons. I was happy because the injustice done to a particular person was corrected. If you look at it, since June 12, 1993, this man actually stood for election though the result has not been officially announced but it was on every record that he has won the contest before the military's Abrakadabra that eventually annulled the election. And since then, no government has considered it fit to honour the man for the sacrifice he made by paying the supreme price with his life. If Abiola has compromised, may be just let the mandate go like that or took money or appointment from the Federal Government, perhaps the military will still be ruling us till today; because they will just be changing baton from one military to another.
So, what we are enjoying today we may not have enjoyed this. So, I want to personally commend him (Abiola) for that supreme price paid; and since then no government either military or civilian, even since 1999 that this dispensation started, deem it fit to honour this man. But to me, I want to support President Buhari for honouring late Chief MKO Abiola, by giving him the highest title and declaring him as President-elect, though he was unable to actually sit on the presidential seat while alive.
Yes, if not for Abiola's sacrifice, for his insistence, that I won the election and I must take the mantle of leadership of the country, that was what led to Abacha's government to arrest him and detain him. He was in detention until the last minute. To me, I want to believe he was killed, assassinated by the military cabal. As at that time, they saw him as an obstacle to the realisation of their ambition. It was a gang up against Abiola and democracy as a whole.
Some people believe that President Buhari should have declared Abiola's running mate as President. As a lawmaker, do you think such call is in the right direction?
You see, let's look at it from this angle. We are politicians and we must play politics. Either we play politics with it or not, we had some people on that seat in the past that didn't even played politics with it. We have a major beneficiary in person of former president Obasanjo who happens to be Abiola's kinsman; but he even refused to honour this man. So, if a Fulani man comes and, either playing politics or not, he just woke up one day and honoured this man. I think we need to give him credit for that.
Will the move boost Buhari's chances in the South West?
Yes, I believe that. For me as a person, that has even increased my interest in Buhari's presidency for the second term. That singular action has improved and increased my special interest which I have in him.
Definitely, it will cut across, especially the people of Ogun state and Yoruba nation as a whole, because this is one thing we have been clamouring for. I could recollect clearly that in one of our interactions, our leaders' interaction with Buhari when he came on board, they told him that for this June 12, the debacle must be broken. Just honour this man, he's not alive to contest the seat with you. Just honour him and let the people know that this man paid the supreme price for the sustenance of democracy in Nigeria.
Since then, he said he will do it. So this is the right time he decided to do it.
Do you think the former President's recent cry out that the same government which honour Abiola wants to kill him, will get the sympathy of the Yoruba nation against Buhari?
I didn't think Chief Obasanjo can get any sympathy from the Yoruba nation, because from Obasanjo's eight year rule, to me, I don't think we actually profit anything from it, in terms of infrastructure, even in appointment and all that. Look at a major road, Lagos-Ibadan road. It's a major road that links the South West with other parts of the country. Obasanjo was there for eight years; he couldn't do anything about it. Otta-Abeokuta road is his own state, his own base; Obasanjo has a farm in Otta, but he refused to do that road. But recently, President Buhari just awarded the contract either one or two months ago – Otta- Abeokuta road. The same thing with Lagos-Ibadan road. So, I don't see any serious thing the South West can claim to have benefited from Obasanjo's presidency that will warrant that kind of sympathy. To me, I don't believe there was any iota of truth in the so-called 'frame-up theory' of Obasanjo.
In some quarters, there is this argument that Obasanjo probably did not recognize MKO Abiola because he was his tribes man; because if he has done that they would have said it is tribalism and his relations with him and all that. Was that probably why he never recognized MKO Abiola?
I want to disagree with that. If you know Obasanjo very well; if you know his antecedents, he always stands against the interest of the Yorubas; and I can mention instances.
Obasanjo was the first person to renounce June 12, that Abiola was not a messiah, at that critical stage. Even before that time, I want to believe maybe there was a rivalry between him and Abiola from their childhood days. They may have some irreconcilable differences that they are just managing themselves.
They were colleagues in schools, and there was the tendency for them to have something in between them; but as God will have it, God has a way of arranging things. But I don't believe that was the reason why MKO Abiola has not been recognized by Obasanjo. I think he has a personal interest.
Obasanjo, by my own assessment, doesn't like anybody that will come and surpass his record. As at that time, he was the military head of state for three years, and a civilian person from his state is now coming to be the President then. So, he kicked against it; he doesn't like anybody in this region that will meet up his records or even surpass it. He will try as much as possible to bring that person down; and I think that was what happened.