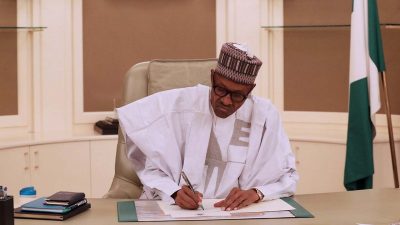 By Okanga Agila
To most Nigerians, the approval of a new National Minimum Wage (NNW) by the administration of President Muhammadu Buhari was unexpected. The time is very auspicious, much as it is relieving.
It was a surprise package as most workers never anticipated it. This is garnered from the reality that Nigeria has just recovered from recession. It silenced critics of the administration who never imagined, it was possible.
But hate or love him; you can even denigrate him, whichever way possible, it does not alter his compassion for poor Nigerians. Buhari remains a President with enviable welfarist proclivity and an abiding passion for the comfort of the less privileged Nigerians. His pleasant shock of Nigerian civil servants with the new pay package is just one of his numerous ways of silently saying, " I wish you lived better lives than what obtains."
A genuine and true leader is judged by the fruits of his actions. He does not make propaganda a companion, but he is inextricably tethered to actions. And modalities are already being worked out for the immediate implementation of the new national minimum wage including a legislative instrument to make it a law.
Perhaps, those still shocked by this reality have no clue to the leadership focus and persona of President Buhari. Or they have forgotten about his antecedents so soon.
Any keen observer of Nigerian leaders would readily attest to their reluctance in tackling issues around workers welfare. They hate with a passion in signing salaries and pensions cheques. They casually sign fictitious contracts in billions of naira, but agonize to endorse salary bills.
But President Buhari has justified in words and action to be a remarkable departure from self-serving leaders who have found themselves in the corridors of power. The new National Minimum wage is yet another testimony.
Last year, the President was livid with State Governors who were still swimming in salaries and pensions indebtedness. When he met a delegation of the Nigerian Governors' Forum (NGF) led by Zamfara state Governor Abdullaziz Yari in the Presidential Villa, he bemoaned the plight of the Nigerian worker caused by non-payment of salaries so emotionally thus; "How can anyone go to bed and sleep soundly when workers have not been paid their salaries for months? I actually wonder how the workers feed their families, pay their rents and even pay school fees for their children.''
A potent source of Mr. President's unquenchable anger against the preceding administration is not so much about Nigeria's squandered and looted commonwealth in the era of boom. But it is to the extent they also piled salaries and pensions debts, the least, any government can sacrifice for her people.
By May 2015, when President Buhari took over the reins of leadership, no fewer than 28 states of the federation out of 36 states were plunged into salaries and pensions debts, which ran into months and billions of naira. Federal civil servants were also not spared the menace of unpaid salaries and pensions. Despair, hunger poverty and misery defined the life of an average Nigerian under such embarrassing conditions.
President Buhari could not bear the sight of famished Nigerians ravaged by unpaid salary-induced hunger. He sourced funds from the Excess Crude account; LNG funds and a CBN loan and released a total of N1.2 trillion as bailout to states to defray backlog of salaries and pensions.
Thereafter, this Presidency also approved and disbursed three tranches of Paris Club refunds to all states of the federation. And at every instance, Buhari cares to counsel that it is meant to assist state governors clear inherited salary debts and the fresh ones they have accumulated.
Besides and on the same issue of salary debts, President Buhari has also approved countless budget support loans and grants to states of the federation. A number of states have freed themselves from the burden of unpaid salaries and pensions.
But other state governors have stubbornly refused to properly and judiciously utilize these interventions from the Presidency to put smiles on the faces of suffering Nigerian workers. But Nigerian workers are not deceived. They know it's their respective governors who have held them captive. They testify to President Buhari's unfaltering commitment to payment of salaries and pensions.
Since President Umaru Yar'Adua increased minimum wage to N18, 000, it is exactly 10 years today. But no political leader of Nigeria has ever again thought it necessary to review workers' pay package until now.
Meanwhile, politicians holding leadership positions increase their emoluments and allowances almost every year. Workers have always been the weeping child. It explains why they are commending the President for the bold step to console them.
President Buhari has left no one in doubt that the wealth of Nigeria is for the masses of Nigeria, as against the prevailing practice where a few members of the ruling class corner everything for themselves and their families. It explains why his administration has reinstated federal workers, whose appointments were unjustly terminated.
In addition, Federal civil servants now enjoy promotions, which were stalled for years and the perks paid accordingly. If there is jubilation in the camp of staff of the defunct NITEL, its because the President knows they are human beings, with families, who deserves to live like any other Nigerian. And so, he cleared all their monetary entitlements deliberately held hostage for years.
Many other categories of federal workers and pensioners neglected in the past are chanting songs of glory to Almighty God and President Buhari in the euphoria of the solace of paid entitlements, which have redefined their lives courtesy of Mr. President's non-segregatory policy of prioritizing workers welfare.
As the new National Minimum Wage knocks on the door soonest, workers in the states must remain vigilant to ensure further grants to state governors for the new pay package as not diverted as usual. Nigerians must be brave and courageous enough to hold their leaders accountable.
State Governors who would fail to implement the new wage should not feed workers with stale excuses because President Buhari would certainly do his bit. Subsisting federal accruals to state would be upped to accommodate the new approved national minimum wage.
Nigerian workers are appreciative of a President who sleeps and dreams about improved working conditions and conducive environment for the Nigerian worker. So, both at the federal and state levels, Buhari is feted as the newest and most beautiful bride of workers who have pledged to keep supporting him in this arduous task of redeeming Nigeria from the fangs of internal colonizers.
Okanga contributed this piece from Benue State