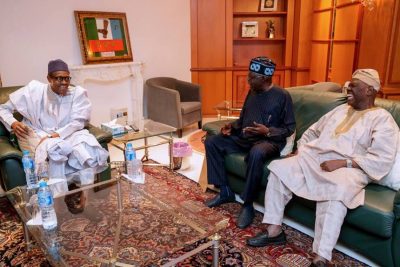 By Lawrence Olaoye, Lateef Ibrahim, Umar Muhammad Puma Abuja and Mohammed Ibrahim Kaduna
President Muhammadu Buhari yesterday met with the National Leader of the ruling All Progressives Congress (APC), Bola Tinubu and the former Interim National Chairman of the party, Chief Bisi Akande, behind closed door.
National Leader of the ruling All Progressives Congress (APC), Bola Tinubu, has said that his meeting with President Muhammadu Buhari alongside the former Interim National Chairman of the party, Bisi Akande, had nothing to do with the explosive statement credited to ex-President Olusegun Obasanjo urging the President not to seek re-election in 2019.
A statement made available to newsmen yesterday by his media office, signed by his aide, Tunde Rahman said: "Today's visit by Asiwaju Bola Tinubu and Chief Bisi Akande to the Presidential Villa was scheduled last week."
The statemnt added that "President Buhari periodically schedules talks with Asiwaju Tinubu and Baba Akande, as he does with other Nigerians and APC figures, to discuss substantive issues pertaining to the governance of the country and matters concerning the party.
"This visit was one such meeting. As such, the meeting had nothing to do with the statement of former President Obasanjo.
"It is totally unconnected. At the time of the meeting, Asiwaju Tinubu and Baba Akande were even unaware that President Obasanjo had released his statement."
Earlir, Both Tinubu and Akande refused to speak to newsmen after the meeting.
Equaly, the duo were absent at the APC stakeholders meeting with the President in the wee hours of last Thursday. The party stalwarts were led by its National Chairman, Chief John Odigie-Oyegun.
Earlier, there were insinuations that the two party stalwarts may have fallen out with the leadership of the party.
In a well circulated letter in the media, Obasanjo had advised President Muhammadu Buhari not to contest the 2019 presidential election.
Rather, Obasanjo appealed to President Buhari to consider a deserved rest "at this point in time and at this age".
The former President of Nigeria between 1999 and 2007 on the platform of the People's Democratic Party, PDP, gave the advice yesterday in a special press statement tagged, "The Way Out: A Clarion Call For Coalition For Nigerian Movement".
The former President insisted that President Buhari needs a dignified and honourable dismount from the horse, adding, "He needs to have time to reflect, refurbish physically and recoup and after appropriate rest, once again, join the stock of Nigerian leaders whose experience, influence, wisdom and outreach can be deployed on the side line for the good of the country."
Continuing, Obasanjo said, "His (Buhari's) place in history is already assured. Without impaired health and strain of age, running the affairs of Nigeria is a 25/7 affair, not 24/7.
While saying that he knew President Buhari before he became President, Obasanjo declared that he was aware that the President is weak in the knowledge and understanding of the economy, adding, "but I thought that he could make use of good Nigerians in that area that could help. Although, I know that you cannot give what you don't have and that economy does not obey military order.
"You have to give it what it takes in the short-, medium- and long-term. Then, it would move. I know his weakness in understanding and playing in the foreign affairs sector and again, there are many Nigerians that could be used in that area as well. They have knowledge and experience that could be deployed for the good of Nigeria.
"There were serious allegations of round-tripping against some inner caucus of the Presidency which would seem to have been condoned. I wonder if such actions do not amount to corruption and financial crime, then what is it?
"Culture of condonation and turning blind eye will cover up rather than clean up. And going to justice must be with clean hands", Obasanjo maintained.
The former president said, "I am constrained to issue this special statement at this time considering the situation of the country.
"Some of you may be asking,: What has brought about this special occasion of Obasanjo issuing a Special Statement?" You will be right to ask such a question. But there is a Yoruba saying that 'when lice abound in your clothes, your fingernails will never be dried of blood."
Meanwhile, in a swift reaction yesterday, the Arewa Consultative Forum, ACF, said it's President Buhari's party that will decide his political faith not the former President Obasanjo.
Although the northern social political group also said the former president has right to speak his view on democracy in the country.
ACF Publicity Secretary Muhammed Ibrahim said in a very short comment that "The statement credited to former President Obasanjo that President Buhari should not re-run 2019 election, it is his democratic right to express his view like any other Nigerian on all issues including democracy.
"However, it is President Buhari's prerogative and that of his party to decide on whether to re-contest or not." .
The All Progressives Congress (APC), said it will respond to former President Olusegun Obasanjo's latter at a appropriate time and appropriately.
When asked to react to the memo, the APC National Publicity Secretary, Bolaji Abdullahi, simply said: "The APC has asked to be given the opportunity to study the statement. We shall respond appropriately afterwards."
For the opposition Action Democratic Party (ADP), its National Secretary James Okoroma, said Obasanjo was right entirely in the said letter.
Also responding, National Chairman of All Progressives Grand Alliance (APGA) Dr. Victor Oye, said the former President was not in best position to advise President Buhari.
National chairman of United Progressives Congress, (UPP) Chekwas Okorie in his reaction described the special letter as timely, as he noted that the Buhari administration has done enormous danger to the unity of the country than any administration before it.
Also reacting to the letter, the Allied Congress Party of Nigeria (ACPN)'s National Chairman Alhaji Ganiyu Galadima said: "the advice of President Olusegun Obasanjo to President Mohammad Buhari not to contest in 2019 is apt and sincere.