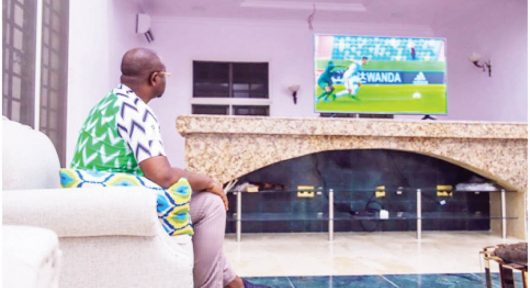 By Amaechi Agbo
After a dramatic comeback that saw the team edge Hungary 4-2 in their opening fixture of the 019 FIFA U-17 World Cup, Nigeria's Golden Eaglets will be aiming to book their place in the Round of 16 as the team face Ecuador on Tuesday at the Estádio Olímpic.
The Manu Garba led team will be hoping to emulate the success of the previous Golden Eaglets side that won the trophy in 1985, 1993, 2007, 2013, and 2015.
Nigeria started their campaign on a bright note after defeating Hungary 4-2 thanks to goals from midfielder Samson Tijani, who grabbed a brace, one a first-half penalty, while there were further strikes from Usman Ibrahim and striker Oluwatimilehin Adeniyi, to move the team top of Group B ahead of Ecuador that also defeated Australia 2-1.
However, the team will face a difficult test against an Ecuador side that possess pace, power, and trickery, as displayed in their opening fixture against Australia.
Manu Garba's boys must keep an eye on Ecuador's Pedro Vite and Erick Plaus, who appears to be two of their danger men that could spoil Nigeria's quest of picking the maximum point.
Both Nigeria and Ecuador will be aiming for the maximum point in order to book an early passage to the next round with a game to spare.
The camp of the U17 National Team, Golden Eaglets in Brazil has been much energized by the words of love and encouragement by His Excellency, President Muhammadu Buhari (GCFR), and the players are looking to qualify for the competition's Round of 16 when they play Ecuador on Tuesday evening in Goiania.
The President on Sunday congratulated the boys for the 4-2 lashing of Hungary in their opening match on Saturday, which put them at the top of Group B on goals difference ahead of Ecuador, 2-1 winners over Australia.
In a statement released by presidential aide, Garba Shehu, President Buhari, under whose watch as Nigeria's leader the Golden Eaglets won the first of their five world titles (as military Head of State in 1985) and their most recent one (as civilian President in 2015), expressed confidence in the ability of the Eaglets to win a sixth title in Brazil.
"It was a wonderful display that I am very proud of. You showed that there is nothing that cannot be achieved with determination and perseverance. I have followed your journey leading to your arrival in Brazil for the competition. I have equally noted your determination and confidence throughout your preparations.
"I have no doubt in my mind that you are determined to win the competition for an unparalleled sixth time."
Indeed, perseverance, persistence and determination characterized the Eaglets' 4-2 win over Hungary, as they pushed and pushed until they got three goals in six minutes in the second half to turn the game on its head.
Tuesday's top-of-the-table clash with Ecuador at the same Estadio Olimpico, starting at 9pm Nigeria time, promises to be explosive, with both teams aware that victory would mean an early slot in the championship's Round of 16.
Captain Samson Tijani said on Monday: "We are very happy to have seen the congratulatory messages by Mr. President. Our morale has been lifted even higher, and we will go into the match against Ecuador with greater determination to win."
The Golden Eaglets of Nigeria will take on Ecuador in their second match at the 2019 FIFA U-17 World Cup in Brazil by 9:00 pm (Nigeria time) on Tuesday.
Winners of the competition for a record five times, the coach Manu Garba-led team are seeking for a sixth crown in Brazil.