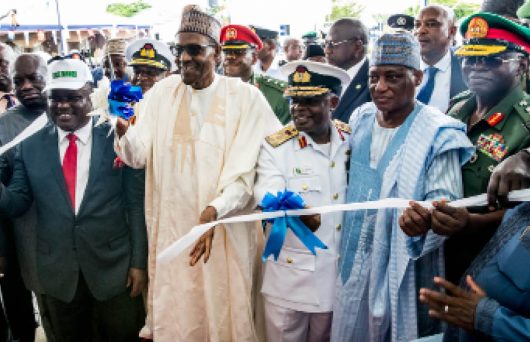 By Lawrence Olaoye
President Muhammafu Buhari yesterday commissioned a rice seedling mill and the Nigerians Navy Reference Hospital in Calabar, Cross River state.
The President in his speeches made available to newsmen also charged state governors to invest more into agriculture in order to broaden their revenue base and create jobs for their youths.
At the commissioning of the rice plants, Buhari commended the Cross River's governor, Ben Ayade, for his thoughtfulness and the people oriented projects.
He noted that his first visit to the state was about two years and eight months ago when he commissioned a 274 kilometers superhighway project initiated by the governor.
The President said "I must say that visiting the state for the second time within three years in connection with people-oriented and flagship projects of Governor Ayade is very welcome and very satisfying to me.
When we assumed the reins of leadership of our dear country, this administration launched a zero-oil economic roadmap as a way of making our country less dependent on oil, while encouraging investments in other sectors of the economy, particularly agriculture."
On his expectations from the factory, Buhari said "What we expect is that Seedlings from this factory will improve rice yield from the current national average of 3 to 4 tons per hectare to about 9 to 10 tons per hectare, thus helping to ensure rice sufficiency in the country and doing away with imports and saving foreign exchange for Nigeria.
The factory is also targeted at creating employment opportunities for the unemployed, I have no doubt that this rice factory will also be a veritable platform for income generation for the people of Cross River State."
He asked per governors in the country to take a cue from Ayade's mitigation as he said "As our country makes steady and assured progress towards self-sufficiency in food production, it is therefore, my hope and expectation that other states that are yet to fully take advantage of the zero-oil economic roadmap of the Federal Government will take a cue from Cross River State."
On the Naval hospital, the President said the facility would improve the productivity of the officers and boost their morale.
He said "The significance of today's occasion can be better understood by making the connection between medical care and productivity. Put otherwise, good health and productivity are inextricably related. This underpins this Administration's vision of what medical services should look like in Nigeria. Primary health care is the cornerstone aimed at creating the conditions that improve the general health of the people, meet the particular needs of patients, families and communities."
He charged officers to ensure maintenance of the facility.
The President congratulated the Chief of Naval Staff for the facility, the Chief of Defence Staff and Service Chiefs regarding the introduction of Service War Colleges to develop operational command expertise and competence in diverse terrains and environments.