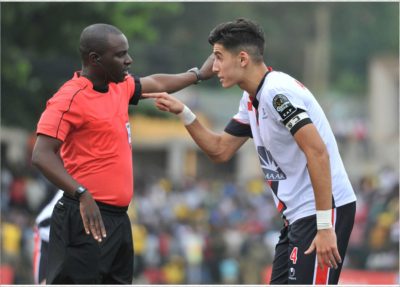 By Albert Akota in Abuja
Bribery allegations towards match officials have again resurfaced, following reports earlier this month that a South African referee was offered a bribe in Nigeria.
According to reports from Zimbabwe, referee Norman Matemera has rejected a $10 000 (=/-R123 779) bribe attempt, allegedly from a club called DesportivoNiefang from Equatorial Guinea.
It has been alleged that the money was meant to tempt the match official to influence the result of the team's CAF Confederation Cup play-off match against Williamsville Athletic Club of Cote Cote d'Ivoire last Wednesday.
"ZIFA yesterday heaped praise on top Zimbabwean referee Norman Matemera after he upheld integrity in rejecting a $10 000 bribery attempt by Equatorial Guinea outfit DesportivoNiefang to influence the result of their decisive CAF Confederation Cup play-off tie against Cote d'Ivoire's Williamsville Athletic Club last Wednesday," Zimbabwe's The Herald reports.
"Matemera, who took charge of the Harare Derby on Sunday, handled the April 18 encounter between DesportivoNiefang and Williamsville Athletic Club in the Equatorial Guinea city of Bata which the hosts won 2-1 but still bowed out 3-2 on aggregate after having fallen 2-0 in the first leg in Cote d'Ivoire.
"But there was drama on the eve of the match as DesportivoNiefang officials, working in cahoots with Togolose match commissioner Lawson Mahuwe as their emissary, tried to offer Matemera and his assistants Brighton Nyika, SalaniNcube and PilanNcube a cash bribe of $10 000 to ensure the Equatorial Guinea side won the match to advance to the group stage of the competition.
"Matemera, however, resisted those attempts and instead reported the incident to the Confederation of African Football," reported the Zimbabwean publication.
The match official has been hailed by Zimbabwe Football Association (ZIFA) for what he has done.
Earlier this month, it was confirmed by the South African Football Association (SAFA) that referee Victor Gomes refused a bribe in the Confederation Cup match between Plateau United of Nigeria and Algeria's USM Alger.