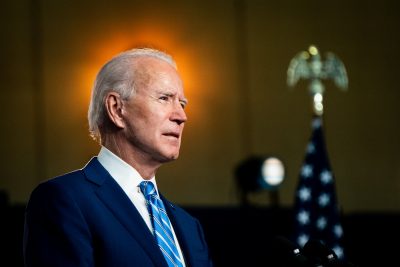 Joseph Robinette Biden Jr. was elected the United States' 46th president Saturday, four suspense-filled days after the election of Nov. 3. The outcome was seen as a rejection of President Donald Trump because of his disastrous handling of the coronavirus pandemic and his divisive, bullying conduct in office.
Biden's victory ended four years of struggle for Democrats and others who have resisted Trump. It was celebrated by an emotional outpouring in cities coast to coast. The election took four days to be resolved after the former vice president was projected to win a series of battleground states, and was clinched by the state where he was born, Pennsylvania. The win also made Biden the oldest president, a record held by Trump. Biden will be 78 when he is sworn in Jan. 20 and will come to office with nearly a half-century in elected office, including eight years as vice president and 36 years representing Delaware in the Senate. He is also the second Catholic and first Delawarean to be elected president.
Voters also made history in electing as vice president Kamala Devi Harris, 56, a senator from California and daughter of Jamaican and Indian immigrants who will become the country's first woman, first Black person and first Asian American to hold the No. 2 job.
The outgoing president (Trump) has refused to concede, saying he would challenge the result in court. In a prime-time speech to flag-waving supporters outside the Chase Center in Wilmington, Biden made no mention of Trump's intransigence, instead offering an olive branch to the president's supporters and imploring all Americans to "put away the harsh rhetoric" and end "this grim era of demonization. To make progress, we must stop treating our opponents as our enemy… This is the time to heal in America."
The joyous outbursts that greeted Biden's victory, however, came against what one commentator described as "a dark backdrop: a bitter and closer-than-expected election that revealed the nation's deep fissures, and the precedent-shattering attempts by an incumbent president to defy its results. Trump on Saturday continued to make baseless claims that the election was rigged, assertions that have been echoed by his loyal supporters." His rejection of the outcome was in spite of the reality that he was losing the popular vote for a second time and at risk of facing a 306-to-232 electoral college defeat.
Despite Trump's unprecedented effort to use the vast platform of the presidency to cast doubt on the legitimacy of an American election, the traditional markers of a coming transfer of power began to emerge shortly after Biden was declared the winner. Former presidents and presidential candidates released statements congratulating the new president-elect; world leaders reached out to express optimism about developing a working relationship; Democratic congressional leaders expressed their support; and, despite pressure from some of Trump's allies not to legitimize the results, some Republicans also publicly sent their well wishes to the soon-to-be Biden-Harris administration.
"Our democracy needs all of us more than ever," former president Barack Obama said in a statement offering well wishes on behalf of himself and his wife, Michelle Obama. "Michelle and I look forward to supporting our next President and First Lady however we can."
Among the Republicans sending statements of support were former Florida governor Jeb Bush, Maryland Gov. Larry Hogan and Sen. Mitt Romney of Utah, the 2012 GOP presidential nominee. Among the world leaders who swiftly and publicly congratulated Biden on Saturday were British Prime Minister Boris Johnson, Ukrainian President Volodymyr Zelensky and Canadian Prime Minister Justin Trudeau.
American voters, by denying Trump a second term, have presumably saved their country, convulsed by health, economic and social crises and "ended a tumultuous presidency that polarized the nation and was characterized by attacks on undocumented immigrants, political adversaries and, at times, the rule of law."
On Saturday, Biden presented a vision of America under his watch, very different from Trump's. He vowed to be a president for all Americans, not just those who elected him. He also revealed what the priorities of his administration would be. He said Saturday that controlling the pandemic would be his first order of business, and announced plans to name a group of scientists and experts to create a plan of action for implementation beginning Jan. 20. "I will spare no effort — none, or any commitment — to turn around this pandemic," he said. His campaign reflected his desire to model the guidance of public health officials in minimizing the spread of a virus that has killed more than 237,000 Americans. He wore a mask at all public appearances, at times for entire speeches, unless he was yards from anyone else, and urged Americans to follow suit. Even as the president resurrected mass gatherings, filled with maskless supporters who refused to socially distance, Biden held no large rallies, instead speaking before parking lots full of cars as supporters honked in agreement.
Throughout the campaign, Biden pitched himself to voters as a uniter who would restore the nation's governing norms, respect long-standing institutions and reconnect relationships with international allies that have frayed as Trump embraced autocrats and brushed aside leaders of other democracies.
Biden will also try to reverse the job decline under his predecessor. Fewer Americans were employed than when he was sworn in. The 6.9 percent unemployment rate in October, while down from the pandemic high of more than 14 percent, is still significantly above the 4.7 percent rate when he took over in January 2017. The national debt has soared, thousands of troops remain in overseas war zones and the kind of Washington influence-peddling Trump calls "the swamp" has only increased under his watch. Trade deficits persist, and the fence project on the border with Mexico has been neither completed nor, as Trump promised, financed by the Mexican government.
When Biden is sworn in, he will have a Herculean repair job to handle. He knows this. "I've long talked about the battle for the soul of America. We must restore the soul of America," he said Saturday. "Our nation is shaped by the constant battle between our better angels and our darkest impulses. And what presidents say in this battle matters. It is time for our better angels to prevail." Indeed, Biden does have his work cut out.