Beyond the overhaul of SARS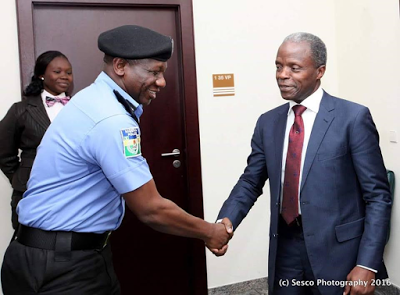 Not a few compatriots have commended the Acting President Yemi Osinbajo for the recent order handed the Inspector General of Police (IGP) to immediately overhaul the Special Anti-Robbery Squad (SARS).
Before the presidential directive, there have been groundswell of complaints against the activities of the SARS operatives ranging from intimidation of the citizens, gross misconducts to total disregard for human rights.
There have been reports of extra judicial killing of suspected criminals by officials of the dreaded SARS operatives. Many innocent lives have allegedly been snuffed-out by the men-in-black most times from overt torture and other inhuman treatment of suspects ostensibly in the course of their investigations.
There have also been complaints of extortions against some unscrupulous members of the special squad from the public they are set up to protect. Those unfortunate enough to fall into their hands are allegedly being made to pay humongous sum of money to regain their freedom. Those not too lucky mostly don't make it out alive!
As the name suggests, SARS is a unit in the Nigeria Police charged with the task of curbing robberies, kidnapping and other criminal activities in the country. To be candid, this unit has performed wonders in its primary charge but its performances have been severally blighted by incidences of criminality and brutality being perpetrated by some of its officials.
There have been reports that some operatives of this important squad are being drawn into civil matters that are unconnected to their primary objectives. There are instances where the men are being engaged in debt recoveries by civilians!
Aside, the crude tactics being adopted by some men in this squad have become a source of worry to the people who would have expected them to be as civil as possible in carrying out their duties.
Because of the danger inherent in their activities, as they are meant to deal with dare-Devils and hardened criminals who can kill without hesitation, it is expected that they must be battle ready at all times. But, deploying excessive force and adopting inhuman tactics while dealing with defenseless civilians or suspects,most often than not, paint the squad in a negative image.
It is however granted that the operatives, who most times face life threatening circumstances from criminals, must not take chances, it is however expected that they must always employ their experience to decipher between situations warranting deployment of maximum force and those which could be handled with mere intelligence.
It is to this extent that many observers believe that even though the Presidential overhaul order was right on time, the Police authorities must go beyond this to ensure capacity building among the men on how to better carry out their assignments without having to mangle bones or break skulls.
Since protection of the people is the ultimate purpose for the establishment of the squad, they should not therefore become the victims of their power. Efforts must be made to arrest suspects alive so that they can get to the root of their investigations and bring culprit to book.
Beyond this, security experts counseled that these men should be better equipped to carry out their activities. Unarguably, men of SARS are the most endangered species in the Police Force today because they are the ones facing the men of the underworld directly fire for fire.
The Police authorities should also look into the welfare of these men who are losing their sleeps in order to protect the citizens against marauders who have multiplied in our society in recent times. There have been reports of the Police authorities not paying requisite allowances to their officials as and when due.
These SARS men should be differently treated. Sometimes, their hostility to the civilian populace is a direct transfer of anger against the authorities. It is dangerous for the Police authorities to allow men deployed on such a dangerous assignment to go hungry or to be left to lack any good thing. This may make them to turn the guns against those people they are being paid to protect.
Perhaps the IGP would find the words of the a retired Commissioner of Police, Simeon Danladi Midenda, who started SARS in Lagos in 1992 at the height robberies, useful as he restructures the squad.
Midenda had in an interview with a national daily stated "SARS as earlier conceived, operated as I have analysed for eight years while I remained as the head. Until the year 2002 when I was transferred to head the state CID in Umuahia, SARS never existed outside Lagos. Today, SARS exists in every state command. How it got to where it is today, I have no knowledge.
One thing that is clear to me is that they have deviated from the original concept. The controversies engulfing SARS today will not disappear unless they return to the original concept. They should undergo reorientation and thereafter, disappear from public view and remain faceless. They should avoid receiving direct complaints from members of the public as most cases received that way will eventually be civil issue but printed in armed robbery colour."
Like the Acting President instructed, the unit that is expected to emerge from the overhaul of the SARS by the IGP should be intelligence-driven and restricted to the prevention and detection of armed robbery, kidnapping, and apprehension of offenders linked to the stated offences, and nothing more.
The new SARS should also be made to conduct their operations in strict adherence to the rule of law and with due regard to International Human Rights Law and the constitutionally guaranteed rights of suspects. "The operatives should also bear proper identification anytime they are on duty," he instructed.
The National Human Rights Commission should also heed the Presidential directive by setting up a Special Panel to conduct an investigation into the alleged unlawful activities of SARS in order to afford members of the general public the opportunity to present their grievances with a view to ensuring redress.