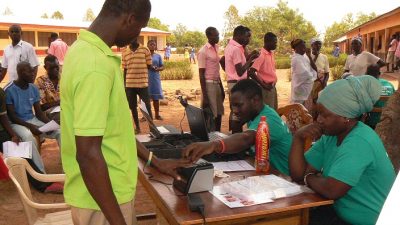 Sierra Leone, a tiny West African nation, on the Atlantic coast, has a new president. He is Julius Maada Bio, the candidate of former opposition party, the Sierra Leone People's Party (SLPP). In a run-off vote March 31, Bio narrowly defeated the candidate of the ruling All Progressives Congress (APC), Mr. Samura Kamara, 51.81 per cent to 48.19 per cent. Bio was sworn in few hours after the national election body announced the final vote tally.
The new president, a former junta leader who briefly held power in 1996, is his country's second post-civil war elected president after Ernest Bia Koroma, who enjoyed two terms of five years each. Constitutional term limits stopped him from running for a third term. Bio won the presidency, but his party is a minority in parliament, winning only 47 of the total 132 seats; the now opposition APC has 67.
Bio knows his parliamentary deficit or handicap, and this is why he has asked his rival to support the new government in Freetown, the capital. Kamara has accepted, after initially contesting the election outcome and threatening to challenge Bio's victory in the courts. It is believed that Kamara caved in to pressures from Sierra Leone's African neigbours and international election observers who had declared the vote generally credible. By conceding, he hoped that it would help lower post-election tensions. However, he pleaded that APC supporters be not persecuted. "No Sierra Leonean should suffer for belonging to any party, no one should shed blood for politics," he said.
The change of baton in Sierra Leone is the third in West Africa in three years. It happened in Nigeria in 2015, Ghana last year and Liberia in February 2018. It means the wind of democratic change is gathering pace in the Ecowas sub-region. This is good for the region and Africa generally. Not unexpectedly, Nigeria's President Muhammadu Buhari has been one of the first foreign leaders to congratulate the new Sierra Leonean lpresident. Buhari said he looked forward to working with President Bio for the "growth, prosperity and stability of both nations, and West Africa." "With the elections concluded and following the trend of recently held peaceful elections in West Africa", Buhari urged all stakeholders in Sierra Leone to work together for the peace, security and development of the country. He enjoined all those with grievances over the outcome of the elections to seek constitutional means of resolving them.
There are too many coincidences in the Sierra Leonean and Nigerian elections for the APC federal government in Abuja not to notice. Both nations are former British colonies; both fought a civil war, Nigeria from 1967 to 1970 and Sierra Leone 1991-2002. Nigeria's Buhari is a former junta leader and so is Bio, a retired Brigadier General. And both defeated the candidates of ruling parties. There is a small irony though. In Nigeria, an All Peoples Congress defeated a ruling party, Peoples Democratic Party (PDP), while in Sierra Leone, APC is the loser. These parallels can only suggest one thing. Very soon, small brother will come running to Big Brother to show his appreciation for helping to end Sierra Leone's civil war and stablilzing the country afterwards. There will follow a plea for further assistance now that the country is reconstructing. We should listen, show understanding, offer help where we can. But at the same time, Buhari must be firm in telling small brother that we have been through a bad patch ourselves.