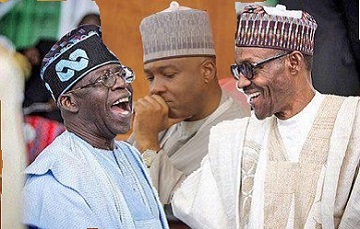 By Mansir Lawal Kaware
From all indications, the boat in which the Senate President Bukola Saraki navigates has capsized at the middle of the ocean. There is the fear that the Sea-rescue team that could save him may hardly reach where he is, before he runs out of breath. It is getting clearer that Bola Ahmed Tinubu had a better experience of sailing through the waters than Saraki, because he could observe and identify turbulent water waves from a distance and never hesitate to change the direction of his boat to a safer coast.
It is like the Scenario in Katsina State where some top APC, State Government functionaries engage in a maradonic move in relation to Governor Aminu Masari's careful running of the administration. But this is not a subject of discussion for now.
Back to our primary subject matter, it is said that he who fights and run lives to fight the other day. Unlike Saraki, Bola Tinubu knows how to fight and attack a lion, even if he did not succeed in killing the lion he may injure it and still go back home safely. This is because he hides behind a tree before releasing the arrow in his bow, such that the lion cannot easily see where the arrow cames from. Unfortunately for Saraki, he faced the lion head-on, under the circumstance before he knows it, the lion could be at his throat. It may not be out of place if I hinge the APC problem to the South-East and South-South mistake of not voting for the APC otherwise the seat of the Senate President would have gone to one of those zones and there could be no complaint from any quarters as that would have given room for power balance. But because they all remaind with PDP in 2015 elections, the offices of the National Assembly leadership were up for grabs except in the North-West which has produced the President.
When players are on the pitch age barrier is not an issue, the ability for one to control the ball is what matters. Both Tinubu and Saraki have certain things in common. They are both from well-to-do families, while Bukola Saraki's father was a wealthy politician from a Yoruba/Fulani clan in Kwara State, Tinubu's mother was a wealthy Yoruba business woman in Lagos State who headed their association and by extension a politician in her own right. Although Tinubu and Saraki differ in their discipline, in that Tinubu is an Accounting Officer, Saraki is a Medical Officer, they both met on the political dining table, with each of them in firm control of his State political ship after serving two terms of 4 years as Governors of Lagos and Kwara States respectively. Both of them served as Senators and are still the God-fathers of their present state Governors. Similarly they are all selfish because it is either they are contesting for an elective office by themselves or it would be their relations or close associates and loyalists. Although, this is common among politicians that of Tinubu and Saraki could be exceptional. Much as the initial problem between the two was said to have started when Bukola opposed the Muslim – Muslim ticket which Bola Tinubu wanted to fly, what is visible to Nigerians was the issue of electing Senate President in which they had divergent interests.
Feelers have it that the office of the President of the Federal Republic of Nigeria is the major bone of contention between the duo of Tinubu and Saraki as each of them nurse the ambition of succeeding President Muhammadu Buhari. Bukola Saraki had attempted twice and withdrew and has never hidden his interest to contest for that office. Tinubu did not come out to say so, but his body language has made it clear that he is interested in that office because his associates have been talking about it and he never denied it. On that note, they were both engaged in the interest of controlling the 8th National Assembly to as a ladder of reaching the office of the President. On the other hand, President Buhari proved to be taciturn in the conflict because as at that time both Tinubu and Saraki had contributed to the APC 2015 election success, and was shying away from turning his back to either of them. But then that action was the base of the present situation. Tinubu hid under the claim for party supremacy, while Saraki went ahead to connive with the opposition party and released the office of the DSP to them.
Atiku was then the driving force of Saraki, while Tinubu was technically pulling Buhari to support his men. What made Tinubu's action suspicious to political observers was his decision to present Femi Gbajabiamila from Lagos State for the office of Speaker. Tinubu wanted to be Vice-President but was forced to drop that ambition on grond of religious representation, he then presented Osinbajo from Lagos State. The same Tinubu presented Gbajabiamila again from Lagos to be Speaker of the House of Representatives and gave the name of Lawal Ahmed for Senate President. If it were from another State in the South-West that Tibubu picked the Speaker one can see reason in it, but from Lagos, it amounts to being self centered.
Now that Atiku and Saraki have gone back to PDP, Tinubu is having a field day and would have to be allowed to act the way he feels like acting. For Tinubu to attack Saraki's leaving APC because of Presidential ambition he was right, it is left for Saraki to defend his action. But for Bukola Saraki to claim that Tinubu's loyalty to Buhari is because of 2023, then it means Tinubu has been careful in his passes on the pitch. It is very acceptable to say Tinubu has been making moves to become President just like (he) Saraki is doing. But then Saraki has lost his right to talk to Tinubu in relation to President Buhari because he is no longer a member of APC. It is now an internal affair to which Saraki has no reason to interfere or is he expecting Tinubu to be loyal to Atiku, Bukola or Uche Secandus? More so, if Saraki linked the Tinubu's loyalty to Buhari to 2023 then what about his (Saraki) disloyalty to Buhari? Is it because of 2019? Considering the fact that Bukola is interested in 2019 who would be more reasonable between the two of them. Is it Tinubu who is waiting for 2023 or Bukola that is going for 2019? Let us take an example, although it is not a very good one but it suits the present situation. We all know that only one person uses a toilet at a time. Under normal circumstance a toilet is locked from within, while it reads "engaged" for those trying to go in, which means they have to wait for the one inside to come out before taking their turn. Now, who would one consider reasonable, is it the one who decides to wait until the other inside finished with it and came out, or the other who continued to hit the door disturbingly knocking for the one inside to come out and give him the toilet?
Unless Saraki therefore, gives convincing reasons he could be seen as a desperate politician acting like a farmer trying to harvest his crop before it matures. Saraki can easily be accused of reading a script written for him by some hidden hands. It is good that the APC Acting National Publicity Secretary Mr. Yekini Nabeni said the party is not talking about 2023 now. There are suspicions that some people are sponsoring killings to dent the Government against the backdrop of 2019 elections. There is also this allegation by Christian elders when they addressed a Press Conference in Abuja on 3/8/2018 that Buhari is pursuing stealth Jihad, while EFCC was only targeting Christians. One wonders what this group is up to. It will be better if they give themselves a pressure group status other than answering the name of Christian elders.
By their claim, they are denting Christians and Christianity in Nigeria. Most of the members are retired Army Generals who chose to speak under the cover of religion to escape reciprocal actions, thereby dispossessing the clergy men of their prestige and reducing the religion to that of people who are trying to bring anarchy in the land.
Let whoever cares to listen or read, knows that Nigerian masses are behind Buhari, arm chair attacks cannot change the minds of Nigerians from voting for Buhari because apart from those who were direct beneficiaries of the PDP and its leaders, nobody would waste his vote, and goes for a losing party. The rigging apparatus they were using are no longer tenable and individual voters will not vote for them.
Therefore, let Saraki confine himself to his area of jurisdiction. He could talk about Tambuwal, Kwankwaso and Atiku who all left APC along with him to meet their ambitious colleaques in PDP such as Sule Lamido, Makarfi, Shekarau, Bafarawa among others that are all contesting to became Presidents.
What Buhari is doing to move the country forward despite series of huddles being deliberately created against him will not push the Nigerian citizens to vote for any one apart from him. Saraki and co. are free to criss cross the country and shout, but the victory pendulum will God willing swing to the side of Buhari and APC come 2019.
Mansir Lawal Kaware writes from Katsina State.