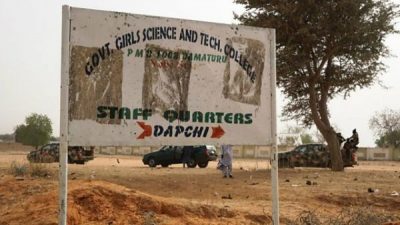 Monday Column by Emmanuel Yawe
royawe@yahoo.com | 08024565402
It is a "National Disaster", declared President Muhammadu Buhari. But the delectable CNN journalist Aisha Sesay disagreed saying it is a "National Disgrace." Both were reacting to yet another abduction of school girls from Nigeria's troubled North East Region.
When Buhari was declared the winner of the 2015 Presidential election, some of us were excited because given his military background, we thought he would find a solution to a problem that had evidently overwhelmed his predecessor, Goodluck Jonathan. I remember sending frantic messages to Ahmed Salkida the journalist with extensive knowledge of Boko Haram who had been unfairly bullied into exile by Jonathan's security goons to come back home. A more responsible government has come to town – I told him – he should come back to help find a solution to the menace.
Ahmed Salkida did come back home. After a series of meetings with security chiefs, he gave me a very cold and discouraging report: "Oga, nothing has changed". He had held several such meetings with top security men during the Jonathan era and believed their approach was wrong headed. Now that a government that advertised itself as an agent of change was in town, it was rather disheartening for me to accept his report that "nothing has changed."
But the worst was yet to come. Our security agents woke up one day and whimsically issued a press statement declaring Ahmed Salkida a wanted terrorist. The statement received wide national and international coverage. For a man who was working with them and had not refused to honor any invitation extended to him, nothing could be more mean and despicable.
We keep hearing governments spokesmen declaring that Boko Haram has been "degraded and or technically defeated" – whatever that means. But then the reality, a different reality, stares us in the face. I visited Maiduguri two times last year as a private citizen; I also took a risky journey to the large expanse of land in Adamawa that Abubakar Shekau declared as his Caliphate, going as far as Michika. What I saw on ground did not convince me that Boko Haram has been defeated or even degraded.
I have said it before that the President of Nigeria is a very lonely man. What he gets to know about his country is entirely dependent on what his close aides feed him with. Again, this is not the first time I will say it; this President like his predecessor is very poorly served. He came into office with very high personal credibility. But after he serves his four-year term and goes on for an additional four years as I know he will contest next year and may even win, his personal credulity will be in tatters.
I wish I could gloat and say "good for him" since he assembled the people who are leading him blindly to his demystification. But I cannot do that. This is not about the man Muhammadu Buhari. It is about a country, the only country that I can call my own. It is about the Chibok girls, it is about the Dapchi girls and thousands of other Nigerians who are being held as slaves in their own country under very frightening conditions. It is about me. It is about you. It is about the men around Buhari who enjoy the trappings of power without the inconvenience of responsibility.
It is good PR for the President to take a flight to Maiduguri and inspect an organized parade of smartly dressed soldiers in freshly issued uniforms on an independence day. But does that tell the whole story? No. The President who does that and comes back contented has been deceived. The country has been deceived. Between Buhari's "National disaster" and Sesay's "National disgrace", I see a Grand National deception.
A few days before the captivity of the Dapchi girls, the military issued a statement that Abubakar Shekau had fled Nigeria to Cameroon disguised as woman. For a man who has given the Nigerian military a good run for their money on the battle field all these years, this description of him as a fleeing feminine coward was almost humorous. Funny enough, the same military that saw him running away, disguised as woman failed to arrest him. Instead they urged unarmed members of the public to capture that ruthless fighter and get a handsome monetary reward.
We have gone back to the Jonathan days when all kinds of stories were concocted and dished out to the President and the rest of us. Shekau himself was reported killed many, many times by the military and yet he lives on. Is he the proverbial cat with nine lives?
The Grand National deception continues unabated.
Last year, in open contempt of the provisions of the 1999 Constitution which vests appropriation of funds from the Federation Account in the National Assembly, some Nigerian Governors announced a donation of 1 billion dollars sourced from the Excess Crude Account to aid the President fight the Boko Haram. In the days of Goodluck Jonathan, the insurgency in the North East was treated as a honey pot for some pot-bellied and rosy cheeked generals. As the election of 2015 drew nearer, some politicians also dipped their fingers into the mess of pottage to lubricate their fat stomachs. The alleged distributor- in-chief of this national largesse, Col Sambo Dasuki has been held in detention for almost two years now for playing Father Christmas with the funds that were meant to fight Boko Haram.
What Sambo Dasuki and his battalion of 'Ali Baba Generals' allegedly did was bad. If the allegations against them are proven, they deserve very harsh punishment for their gluttony and inhumanity to fellow Nigerians. But getting to the root of the Dasuki scandal has become a big problem for this government and the investigations have become inconclusive because I understand some untouchables in today's government are deeply involved in the comprehensive mess.
The difference between our leaders and the Boko Haram people is that they are deeply committed to their cause – whatever that cause is and are ready to die for it. On our side, our leader's commitment to the fight does not go deeper than their pockets. Whereas the Boko Haram people rely on intelligence gathering to spring a surprise, we rely on contracts to buy massive arms and armaments for reasons that are very obvious.
And so between our National disaster and our National disgrace, our leaders continue to delude and deceive us.