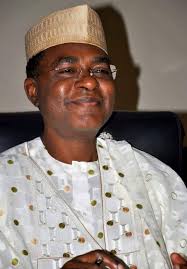 From Ahmad Mohammed, Bauchi
The Bauchi State campaign Council of the Peoples Democratic Party (PDP), has explained that the defection of the Former National Chairman of PDP, Ahmadu Muazu, and former Bauchi State Governor Isa Yuguda and others would not affect the fortune of the party in the next general election.
Director of administration of the Council and Spokesman of the Bauchi State PDP Gubernatorial Candidate, Alhaji Maigari Mohammed Khanna, stated this yesterday in Bauchi while answering question from reporters.
Maigari was reaction to the decamping of about 18 prominent people that included two former Bauchi state Governors and their deputies, former Secretary to the Federal Government, Mahmud Yayale Ahmed and 13 others announced during the flag off of APC candidates' campaign by President Muhammadu Buhari in Bauchi last Saturday.
He said, first, to put the record straight, the former governors and co, did not defect from PDP to APC but from other political parties not PDP.
He said Mu'azu who was a former Bauchi State Governor since after the 2015 general election which PDP lost to he resigned from the party as National Chairman , he dumped the party and left the country, even during the flag off campaign of the APC he wasn't there we wait until we hear from his mouth, Yuguda has left PDP since after the last general election he announced that he dumped PDP later he contested the recent Bauchi bye election senate seat under the platform of the Political party he belonged not PDP since he left PD he didn't return up till today, Former Secretary to the Federal Government. Mahmud Yayale Ahmed was not a PDP member; and the last time he was in touched with PDP was in 2015 when he contested primary election. Since then, we didn't see him in any PD activities or function. He too was absent when they mentioned his name."
Maigari said the only two people that may like come close to the PDP among the 18 decampees are two former deputy governors of Bauchi State Abdulmalik Mahmud and Deputy PDP National Chairman Babayo Garba Gamawa, but you would remember that PDP national headquarters has suspended Gamawa from the party for allegedly anti party and for not participating in any PDP activities for the last six months even if they call him, for the last six month he is not in PDP , but for Abdulmalik he was a member since he don't have any office may be we can say he is the only one that left PDP but the remaining ceased to be PDP members long ago"
He said when people of Bauchi State critically observed that many among the 18 people whose name was read as people who decamped from PDP to APC are prominent politicians, they know the value of to be receive by President yet they are absent and even announcing their names they decamp alone without their supporters, its questionable, ewe expect to say People like Yuguda and join APC with thousand or hundreds of their supporters but they decamped alone"
Spokesman of the Governorship candidate said their defection didn't shake the PDP campaign council and its Governorship candidate and remember Bauchi People love PDP and the party has the capacity to handle the likely challenges that may confront it as a result of the defection of new members outside the party but we thank God these people are not from PDP..
He urged electorates to get their permanent voters card and to be ready to protect their votes during the forth coming election and to vote for PDP candidates.