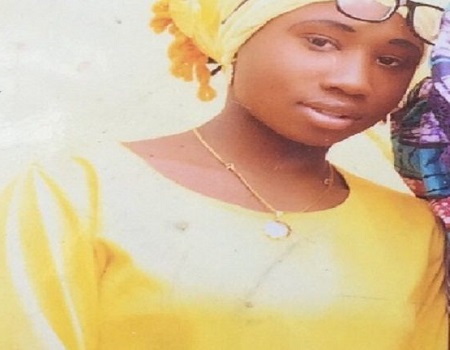 From Femi Oyelola Kaduna
President Muhammadu Buhari has said his government is working towards the release of the abducted Dapchi school girl, Leah Sharibu and other Nigerians in Boko Haram captivity.
The President, said he is committed to ensuring that all men and women held in captivity by terrorists regain their freedom.
He gave the assurance at the Passing Out Parrade of 365 cadets of 65 Regular Course Nigerian Army and 66 Regular Course Nigerian Navy and Nigerian Air Force in Kaduna.
Buhari who was represented by Vice President Yemi Oshibajo said peace and stability of Nigeria will continue to be the utmost priority of his administration.
"The administration is determined to look in particular at the welfare of the men of our troop everywhere especially those who are in the areas of conflict in the moment.
"Today residents of northeast are able to celebrate their religious festivals without the blanket of fear that once kept them permanently indoors. Schools , markets and road are been reopened daily, farmers are returning to their farms of which they are forced to flee.
"In the last two years, more than a million displaced persons have been reunited with their loved ones. Over a hundred of our kidnapped girls from Chibok have regained their freedom after two years in captivity, while the plight of the Dapchi girls was promptly dealt with. This is in addition of captives who have been rescued through special military operations.
"We are committed to ensuring the release of all the women and men held in captivity. Few days ago, Mr president spoke personally to the anguished mother of Leah Sharibu; Christian girl who is the only left as part of the Dapchi girls still in Boko Haram captivity.
"Mr President assured her mother that she would be returned home safe . And that commitment Mr president has made not just to her mother , but to also all the girls and all the young men who are still in Boko Haram captivity today.
"All over the Northeast, our people are been provided with a chance to begin the urgent task of rebuilding their lives and lively hood .
"The federal government is working with the state and international community, the NGOs and Civil Society Organizations to help achieve this."
Meanwhile, the President also commended the resilience of the Nigerian Armed Forces for the giant stride recorded so far in the fight against insurgency.
"The ongoing military stabilization operation in the Northeast will continue until full normalcy is restored," he said.
"We are not yet out of the woods of course but the progress we have seen embolden us to continue the fight," the President stated.
Buhari also pledged that his administration will continue to demonstrate zero tolerance for crimes and criminality, saying "those who take the law into their own hands, who bear arms illegally and seek to profit insecurity, will be decisively dealt with."
He however, charged the graduating cadets to prepare to face the task ahead of them.