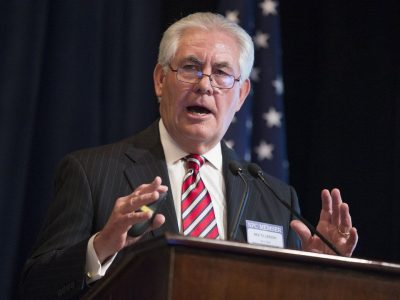 United States' Secretary of State, Mr. Rex Tillerson, has completed a five-countries African shuttle. The countries he visited are Chad, Djibouti, Ethiopia, Kenya and Nigeria. It is the first African tour by a top U.S government since President Donald Trump took office in 2017. Tillerson held talks with the leaders of the five nations, including Nigeria's Muhammadu Buhari.
During a background briefing over the weekend, the U.S. Department of State said the Nigerian elections, though still a year away, were of interest to Washington. "That really is a major priority focus because that is going to be the third most populous country in the world by 2050. It has really very complex political issues, ethnic and security issues. And that is an area we really are focusing on – how to do a peaceful democratic transition. But more important Is how to hold government accountable to the people."
The Dept. of State noted that the pace of democratisation that has taken place in Africa, however, saying that most of emerging democracies are "still fragile" and that the U.S. is "trying to strengthen them". It commended the election that brought George Opong Weah to power in Liberia. "It was the first free, fair, and peaceful transiton of government in over 75 years. It's a good thing."
The department said the Tillerson visit would focus on mainly "building insitutions and holding governments accountable". "How do we advance political and economic reform that will help in the transition process? There are issues too that we are working on in Zimbabwe with the transition between Robert Mugabe and Emmerson Mnangagwa."
Welcome as it is, the African visit is coming at a time when Africa/U.S. relations are sour. Behind this is a snide comment President Trump made in February this year about immigrants heading for the U.S. from African countries. He described those nations as "shithole countries". That comment caused a storm across the continent. In Nigeria, the Buhari government summoned the U.S. Ambassador to explain what exactly Trump said. This dark cloud has not quite lifted. Mr. Tillerson, therefore, should expect a cautious, not too enthusiastic, welcome in Abuja.
However, there is the bright side too. In January, Trump lifted the ban his predecessor President Barack Obama placed on arms sale to Nigeria. Trump approved the sale of state of the art fighter planes worth over $500 million to Nigeria. The purchase papers were signed last month. Built into the contract is a training programme tailored toward improving the fighting capability of government troops against Boko Haram insurgents in the northeast.Trump promised that the U.S. would everything necessary to help Nigeria defeat Boko Haram which has been branded by Washington as an international terror group. It is this point, more than the 2019 elections, Mr. Tillerson will emphasize when he meets President Buhari in Abuja, we believe.