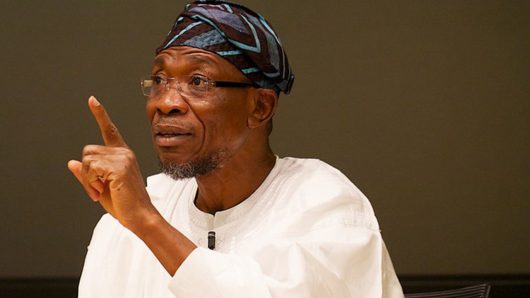 THURSDAY Column with Mohammed Adamu
(08035892325 sms only) | dankande2@gmail.com
–an abridged version of 'Three Days With The Oranmiyan'
They call him the 'untypical Governor', -with an 'unusual government'. To some he was an off-key note jarring the hymn of 'business as usual'; but to others, a pleasant rarity, a welcomed gadfly that upped the ante of state governance in an 'unusual' way. But just how 'unusual' was this 'unusual governor' of the State of Osun? First is his austere deportment exuding the self-effacing aura of either 'ascetics' more concerned about the 'ethereal' than the 'terrestrial', or of 'mystics' more in touch with the 'spiritual' than with the 'physical'. And just as his mien un-grudgingly reveals Spartan contentment, so his apparel luridly exposes an acute discriminatory sense of the genuinely frugal from the profligately frolic. Aregbesola's austere, even if inelegantly-puritanical signature code of trado-dressing, is a world apart from the extravagant fad of governors who step out in gaudy styles often enough to provoke the envy of fashionistas even in proud Italy. Yet it is the Ogbeni we accuse of profaning public morality because his skimpy 'kembe' trousers, rather than promote culture, we say are 'divisively Islamic', projecting a 'mullah' in command of the secular affairs of men. And whereas he would not regale the public with the usual hypocritical fad of bearing 'Servant Leader' or 'Chief Servant', yet he would not delight in wearing 'big titles and superlative prefixes'. Reason he adopted the simplistic 'Ogbeni' -or 'Mister'- in harmony with the simplicity he brought to governance. His governor-colleagues mystified the art of governance. Aregbesola simplified the mystic around political leadership.
In his radical approach to the rebranding of his State, re-christening it 'The State of Osun'; and in the rejuvenation of the cultural ethos of his people; and the adoption of patriotic songs and anthems of allegiance; and in the recreation of inspirational emblems, totems, crests and motivational cultural motifs, to reawaken state pride and to create a renascent future, Aregbesola stood, among the groove of governors, an 'unusual' plant with the most 'untypical' foliage. And far more 'unusual' is his oracular 'Six Point Integral Action Plan', an omnibus, 'Green Book' consecrating a pact with the people even as it itemizes, with uncanny detail, all that Aregbesola intended to do in office -the 'whats' and the 'hows', the 'whys' and the 'wherefores' of achieving the following: 1, Banishing Poverty by revitalizing commerce through market-friendly policies; 2, Banishing hunger by repositioning agriculture away from subsistence to commercial venture; 3, Banishing unemployment by imparting life-long skills in youths and adults; 4, Promoting functional education by making it employment-generating rather than employment-scouting, 5,Restoring healthy living by providing effective and available healthcare for all and 6, Enhancing communal peace and progress by restoring the bond of trust between governor and the governed. In Nigeria where it is the norm and not the exception for elected politicians to come into office before figuring out what to do with it, Aregbesola's 'Action Plan' was as novel as it was innovative. Yet it was in its practical implementation that the Ogbeni's reputation of 'unusualness' assumed its most lurid effect.
I was privileged to be in the State of Osun for 3 days on the invitation of the Governor; and to be both bombastic and waggishly tongue-twisting, I was 'flabber-whelmed and over-gasted' –by what I saw: an entire State turned into a massive construction site, comprising scores of projects, -from as mega-sized as overhead bridges and networks of drainage systems to as promising as an International Cargo Airport under construction; from massive roads building, dualization and erection of pedestrian bridges, to an aggressive re-construction and rehabilitation of dilapidated public utilities like stadia, parks, markets, factories, health centers, waterworks, and rail transport systems, to the building of world-class, state of the art schools. Said the American novelist J.D. Salinger "Facts at hand speak for themselves a trifle more vulgarly… than facts usually do". For such an indigent State, famed often for forming the bottom list of receipts from the Federation account, you wondered how the Governor could still undertake so much projects. By the way Aregbesola met an insolvent State 7 years ago owing a "suffocating" N18.3 billion when its monthly income was a measly N1.5 billion. And not long after he came into office, a new minimum wage had increased salaries from N900 million to N1.8 billion monthly (N300 million more than the State's monthly receipts).
But if governance was rocket science, it must have met in Aregbesola, its 'Albert Einstein'. The State of Osun is truly where 'empiricism' seasons the art of 'governance': the vision, the mission, the thought processes occasioning the birth of every idea and the meticulousness by which ideas are implemented, are no less laboratorial than 'Einstein Observatory' itself was. Einstein was the one who said that "Genius is 1% talent and 99% hard work"; -or 1% inspiration and 99% perspiration. He was the one also who said that "Intellectuals solve problems" but that "geniuses prevent them". But sometimes even geniuses are doomed to solve 'problems' reactively which their prodigy could neither have envisaged nor averted. Such was the debt overhang on the Oranmiyan, he had to resort to taking a "bridge finance of N1billion every month", just to meet the State's statutory obligations. Thus saddled with a fait accompli, Aregbesola had to be the Einstein "intellectual" first, by 'reactively' solving an inherited problem, before becoming the Einstein genius by 'proactively' implementing his Plan. The inherited loan was carefully re-structured to ease the grip on the jugular of the economy, so that the State now repaid N100 million monthly instead of N600 -freeing some resources for the execution of projects without compromising the State's obligations to its creditors. As Einstein had said "Imagination is more important than knowledge". That loan restructuring, by the way was the reason the State could accommodate the new minimum wage which had shot salaries from N900million to N1.8billion. And in fact it was the needless rancor ignited by Labour over the Governor's systemic approach to accommodating the new wage that occasioned an unwarranted strike, which in turn created a salary backlog.
And to kick start his 'Six Point Integral Action Plan', Aregbesola had ingeniously tapped into a delicate financial instrument called 'promissory notes', to finance prioritized projects, so that with a combination of re-scaling, re-prioritizing of inherited white elephant projects, 'prudent', 'transparent' and 'fiscal discipline', the State came out of insolvency and the Governor had more funds to play the creative Einstein with. And with his many socio-economically empowering programs, especially the skills-imparting Youth Empowerment Scheme which injected into the State economy a revolving N200 million monthly, money could now circulate regularly not only to re-flate the economy but empower the people to create wealth –who in turn could can empower government by paying taxes. And by 'improving efficiency' in administration, 'cutting down recurrent expenditure', 'blocking leakages' and 'maximizing revenue' Aregbesola, had improved Osun's savings, upped her IGR without increasing taxes, reformed education without sacking teachers; fed over 350,000 pupils without Federal Government counterpart funding; pioneered the distribution to students, of IPADs (Opon Imo) in the first ever 'Stand-Alone-E-Learning System' in Sub-Saharan Africa; revitalized the rail system and introduced a social welfare program for the aged (Agba Osun) by way of monetary support and free Medicare for the State's most vulnerable elders.
Epilogue
When we sat down for an interview, Governor Aregbesola alluded to a Report of the Nigerian Bureau of Statistics confirming Osun as the best state in governance on the human, poverty, and other related indexes –achievements his opponents would not recognize. Proving right the Scottish writer, Andrew Lang who said that "Politicians use statistics in the same way that a drunken man uses lamp posts –for support rather than illumination". But "Facts" said Aldous Huxley "do not cease to exist because they are ignored".