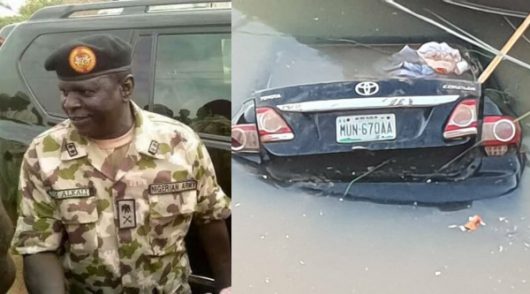 From Ado Abubakar Musa Jos
The Nigerian army has arrested many people in Dura Du community of Jos South Local Government Area of Plateau State where the car of the missing General Muhammed Alkali was found in a pond.
The operation of the arrest which began in the morning hours of yesterday was said to have been carried out to fish out those that were alleged to played roles in circumstances leading to the missing general.
This development is coming a day after another 18-seater bus was found in the pond in Dura Du area.
Kayode Ogunsanya, Deputy Information Officer, 3 Division, confirmed the arrest to journalists in Jos.
" It is normal that when you conduct such operation, some people will be apprehended. They were screened and sorted out based on the degree of their culpability at the venue. After sorting out, the suspects were arrested and brought to the barracks for further investigation, " Ogunsanya said.
But, the officer could not ascertain the number of those arrested.
According the military, the continued evaluation of the water is on-going.
Recall that on Friday last week, the missing general's car and a blood stained shirt was found in community's pond.