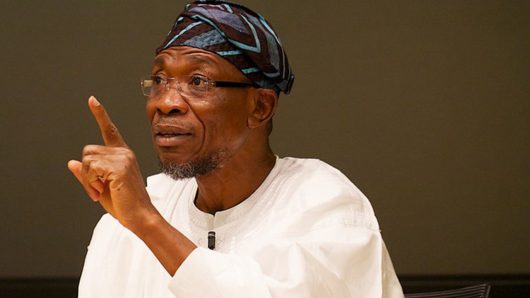 From Ayodele Samuel Lagos
The Governor of Osun State, Alhaji Raul Aregbesola, has commended his Bayelsa State counterpart for conducting a free, fair and credible gubernatorial primary election in Osun State.
Aregbesola, who said that he monitored the primaries on the television, said that the process of the election signified improvement in the democratic culture in the country.
A statement by the Special Adviser to the Governor on Media Relations, Mr. Fidelis Soriwei, quoted the Osun State Governor as haven made the comment while playing host to Governor Dickson and other members of the electoral committee in Osogbo on Sunday.
He described the primaries as a display of robust democratic process which was free and fair.
Aregbesola said that he was anticipating a free and fair Governorship contest in the state on September 22, 2018.
He said, "I respect you, a astute advocate of good governance, as well as the eloquent chief servant. I followed through the live telecast of your primaries.
"We are advancing in the process to build a democracy process. I monitored the primaries on the television. With what I saw, you had a robust process. It was a free, fair and democratic process.
"I hope for a fair Governorship contest and I am proud and happy that we are building a democratic society; we are coming to terms with the ideal of democratic governance."
The Osun State Governor also said that the APC had also conducted free, fair and credible primaries in readiness for the Governorship election.
Earlier, Governor Dickson told his host that he and his team decided to pay Governor Aregbesola a courtesy visit after the successful election for the conducive environment that prevailed throughout the period of the election.
He said that the environment of peace, stability and the atmosphere of tolerance in Osun contributed to the successful conduct of the primary election in the state.