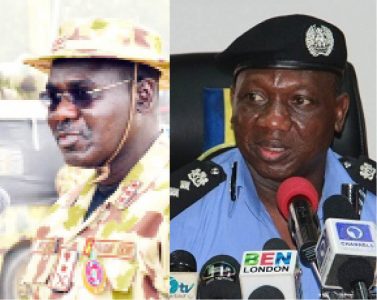 From Mohammed Ibrahim Kaduna
Armed Bandits in Birnin Gwari have sacked about 30 villages across the local government area of Kaduna state.
The attacks that led to the people in those villages to flee were carried out between January to May 2018.
The inhabitants of the affected villages were said to have abandoned their homes and animals due to fear of being killed or kidnapped.
The affected villages include those around Birnin Gwari – Funtua road axis, kaduna- Birnin Gwari Highway and those around boundary between Birnin Gwari and Chikun Local Government Area.
Birnin Gwari has suffered attacks by armed bandits that claimed so many lives in this year.
In March about 11 soldiers were killed by bandits along Kanfanin Doka in Maganda district.
A community leader in Maganda Town who now live in another community called Pandogari Mustapha Maganda said people are migrating out of the town in large number.
He said half of the people in villages like Maganda, Makera , Unguwar Gwandu, Kuyelo, Kwasakwasa, Nacibi and Farin ruwa fled the area.
Same with those living along Dogon Dawa axis likeTashar Leda, kirado and Layin Mai Gwari villages.
"Our people are running from one village to another to avoid bandits attacks.
"We are appealing to the government to please help us because we have no other places to go," Mustapha said.
One of the village heads in Kurebe Village in Shiroro Local Government Area in boundary between Niger State and Birnin Gwari who pleaded for anonymity told our reporter that he left his community three months ago.
" I left the town with my family three months ago because the bandits who are mostly Fulani youths are terrorizing us.
"They (bandits)demands for money and food from villagers if we refused they kidnapped your family or even killed you," he said.
According to him, these are few reasons people flee their homes.
"Each time the military pursue them(bandits) they ran into bush closed to our communities.
"From where they come to terrorize us. So, we can't continue to live in fear, the best thing is to flee the area," he said.
The old man pleaded with the government to deploy more security to be patrolling that area.
Hussaini Udawa another community leader said the villages affected by armed bandits in Chikun Local Government Area are those at the boundary with Birnin Gwari.
According to him, the villagers were equally forced to leave by armed bandits operating along that axis.
He listed those villages and settlements to include Badayi, Sibiri, Dakwala, Rahama, Sarari, Gardan Gona, Dakwari and Malam Hali.
Hussaini said at Birnin Gwari boundary with Niger State there are also villages sacked by the bandits which include Angwar Najadau, Bakin Kogi, Dogon Gona among others.
"The bandits attack spilled over to our villages because we share boundary with Birnin Gwari LG and Niger State.
"The issue is so bad that our people abandoned their houses and farms in their villages just to save their lives and their family members," he added.
A former chairman of the Local Government Area who doesn't want his name mentioned for safety reasons confirmed the story of villagers migrating.
He mentioned villages like Gwaska, Gobirawa, old Birnin Gwari town, Janruwa, Maganda, Kiryoyi, Layin mai Gwari. Mai Kurya and a village along Kaduna-Birnin Gwari road called Gazaye as those affected.
"All these villages are deserted because the bandits are terrorising the residents forcing them to leave.
"'As we speak some of them are in Birnin Gwari town while others move to other towns bigger than their own to avoid being kidnapped or killed.
"The security can't fight these bandits alone, they need the support of our local hunters. Our hunters understand the terrain better.
"This is why we are always calling on security agents to engaged our people in intelligent gathering because they knew where to get these bad criminals in the bush," he said.
According to him, he had the opportunity of meeting the state governor over the situation in Birnin Gwari few days ago.
"I told him what need to be done and he listened to us. He promised to do more to protect our people," he said.
Contacted, the State Commissioner of Police, Austin Iwar said the command doesn't have the information about the sacked communities yet.
He then requested for names of the villages affected, saying he will find out about the situation.
" I don't have such information but we are working on something similar, but more detailed, that we will share when finished," he said.