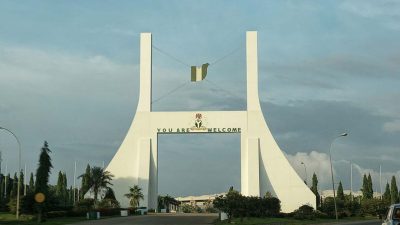 Stories by Stanley Onyekwere
In furtherance to keeping the nation's capital city clean at all times, the Abuja Metropolitan Management Council (AMMC) penultimate weekend cleared illegal structures along the Outer Northern Expressway (Kubwa road), from Mpape junction down to Kubwa.
Some of the structures removed from the road corridors include illegal car stands, food vendors' kiosks, road side mechanics and building materials traders whose activities cause obstructions along the highway.
AMMC Coordinator, Umar Shuaibu, who led personnel of the Ministerial Joint Taskforce (MJTF), Abuja Environmental Protection Board (AEPB), department of Development Control and almost all the security operatives on the exercise, vowed that the Federal Capital Territory Administration (FCTA) would continue to do the right things while carrying out its lawful responsibilities.
Speaking to journalists at the old Tipper Garage section of the road on the exercise, AMMC Coordinator said that Abuja as a world class city needed to be sanitized and kept free from all nuisance.
"There are car stands provided for these car sellers and we expect them to abide by the laws by relocating there not displaying their goods along the main road.
"We want all the corridors of the road to be free from obstruction so we expect that each person will go back to the appropriate place to do his business,'' he said.
In order to prevent return of such illegal activities to the corridors of the roads along Kubwa road and other expressways in the FCT, the AMMC boss said that there would also be a pin down in place to that course.
He reiterated that they will do a security pin down to watch over the cleared areas so that the people wouldn't get the chance to come back to display their goods, adding that a mobile court was also available for any defaulter to be charged when apprehended.
Warning all automobile dealers, and others of punishment if they displayed their vehicles or wares close to the road, Shuiabu disclosed that the AMMC was setting up a mobile court to trial and prosecute offenders.
He added that the council was also considering putting in place arrangements for the relocation of Abuja automobile dealers to places earmarked for them in the Abuja Master Plan.
He therefore advised those having illegal structures across the nation's capital to remove those structures by themselves, else his men and bulldozers would soon come for demolition.