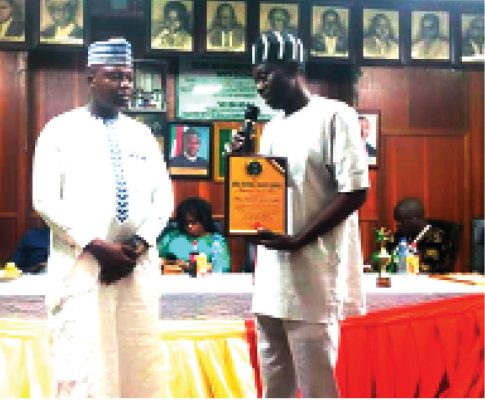 By Amaechi Agbo
The Chairman, Abuja Municipal Area Council, AMAC, Hon. Abdulahi Adamu (Candido) has commended the coaches from the council for their commitment and dedication in promoting grassroots football t-in the council.
Hon. Adamu made the commendation on Friday during the 3rd edition of the AMAC Football Coaches Council Gala/Award Night ceremony.
The Chairman who was represented by his Special Adviser on Sports Matters, Hon. Aliyu Useni praised the coaches for their steadfastness in championing the cause of football at the lower level and asked them to continue in that regard.
The chairman further promised of the Area Council's commitment in supporting the coaches in all their activities
"The Honourable Chairman could have been here in person but other pressing needs came up almost when he was about to leave office for this event. And that shows how much importance he attached to this programme and activities of coaches in our council.
"The chairman is a lover of football particularly and sports generally and he does not shy away from identifying with sporting activities. He immensely appreciates your efforts in discovering, nurturing and promoting grassroots football in the council and FCT in general.
"Your contribution to football development in the council via various youthful competitions and other activities are duly noted by the area council chairman and his supervisors. The council will always identify with and support your activities," he said.
Earlier in his address of welcome, the Leader of the Coaches Council, Kenny Owojori, said that the Gala/Award Night ceremony was instituted by the coaches four years ago to reward hardwork and commitment.
He noted that the awardees were carefully selected by the organising committee based on their antecedents and contributions to football development in the FCT in the last 24 months.
The awards were categorised into three Players, Coaches and deserving members and top dignitaries
The ceremony was held at the Olusegun Obasanjo Auditorium, Federal Ministry of Justice, Abuja.
Full List of Awardees @ AMAC Football Coaches Gala Nite / Awards Ceremony
The awards were categorised into three – Players, Coaches/Deserving Members and Top Dignitaries/administrators.
In category one, a total of 4 young players were rewarded for their exploits in the AMAC Football Coaches Council U-13 and U-15 championship
Ejike Kingsley Chukwuka received award as the Most Valuable Player of the U-13 Youth Championship; Emmanuel Iniobong got the award Highest Goal Scorer for the same competition
In the U-15 competition, Kumate Shina Joshua got the MVP award while, Ikpe Andrew got the highest goal scorer award.
All the four players are from Abees Golden Football Academy.
In the second category which is reserved for Coaches and Deserving Members, the following individuals where recognised: John Wakili (aka. Coach Wako,) Director, Waco Football Academy; Aregbe Akeem, President, Wazobia FC; Shakirat Adedoyin Usman, Proprietress, Abees Golden Soccer FA; Bilkis Tijani national U-20 women's coach; Mike Attah, Vice Leader, AMAC Football Coaches Council and Head Coach, A.M.U Motors Football Academy and Jubril Yusuf Kenny Ag. President, National Association of Nigeria Professional Footballers (NANPF) FCT and Director, Winner Academy. And Amaechi Agbo, Chief Editor, Besthocicesports.com.ng
In category three which was meant to honour top dignitaries and administrators, the following were the recipients of the awards: Alhaji Abdullahi Adamu (Candido), Chairman, Abuja Municipal Area Council; Dr John Gabaya
Vice Chairman, FCT Football Association and Chairman, Bwari Area Council; Alhaji Sani Lulu Abdullahi, Former President, Nigeria Football Federation, Proprietor, FOSLA Academy and Patron, AMAC Football Coaches Council; Alhaji Mohammed Adam Mouktar, Chairman, FCT Football Association; Coach Isah Ladan Bosso, former head coach, national U-20 men's team and President, Nigeria Football Coaches Association; as well as CSP Garba Yaro,
Vice Chairman, Police Machines FC Nigeria and President, Barreta Football Club.