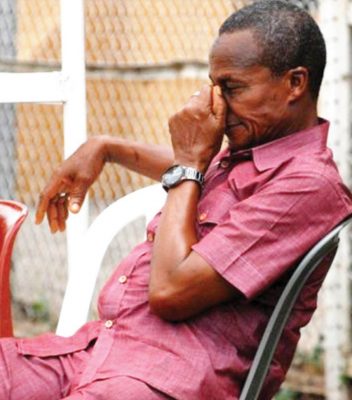 By Albert Akota
Help has come to ailing coach Kadril Ikana whose has be battling with the ailment for some months as Alliance Hospital commenced free treatment to the former Enyimba FC club of Aba head.
This was made known yesterday in Abuja in a press conference, where the team leader of Alliance Hospital Abuja, Dr. Christopher Otabor said that the clinic is happy to render assistance to former Green Eagles defender as he promised to bring back Coach Ikhana back to fit within 3 months.
According to Dr. Otabor, a few days ago, I was watching ITV station and I saw an appealed to help coach Kadril Ikhana whose health is failing and I sought for his number and I told him to come and after a series of test and we discovered that it has to do with bones and spine.
"His spine has degenerated so bad, he needs a total replacement of hips and spine which is amounted to 3 surgeries to be back to his feet.
"The three surgeries include two pelvic bones and spine surgeries will cost about N10million naira but Alliance Hospital has decided to treat him free of charge.
"Because Coach Kadril has brought joy into the life of many Nigerians, the former Green Eagles player who also featured for Bendel Insurance and Abiola Babes as a player winning trophies.
"Not only that, Ikhana Coached clubs like El Kanemi Warriors, Kano Pillars, BCC Lions, Sunshine FC, Sharks, Nasarawa United
"In 2003 he set a record as first Nigerian Coach to lead Enyimba to win the CAF Champions League for the first time in the history of any club in Nigeria.
"I think someone who has made Nigeria proud should not be left suffering, no matter what it will cost us, we shall do our best." He vowed
Dr. Irabor, however, thanked Minister of Youth and Sports for the supports, while urging Nigerians to keep praying for the success of surgeries.
However, the first surgery will commence today (Thursday) 31st of October 31st, 2019 while others will follow.
Alliance Team leader equally called on well-meaning Nigerian to come for the assistance of many Nigerian who is in one pain or the others: "we want to ensure we continue to help many Nigerian and we have set up a foundation to that effect.
"I want Nigerian to know that a tree can't make a forest if we get the help we don't mind, it's not because we have too much money but we felt there is a need to do it.
"I expect that Coach Ikhana will be back on his feet in the next 3 months, God's willing, we shall take all the safety measures, professionally we are capable" he vowed
On his own, the Minister of Youth and Sports Mr. Sunday Dare who was represented at the event by his Media Assistant Mr. Kola Daniel expressed that Minister is passionate about the welfare of all football stakeholders retire or not and would do everything possible to ensure they get the needed supports.
Minister thanked the Alliance Hospital from taken away Nigeria's shame by lending this gigantic help to rescue someone who has contributed to the growth and development of football in Nigeria
Speaking also was the Ailing Ikhana who appreciated the Alliance Hospital saying God will pay the hospital back with the coin you are paying him now, I equally thanked Nigerians especially my colleagues for their support honestly, I am short of the words, I never knew this kind thing happen before." The ailing coach Ikhana said.