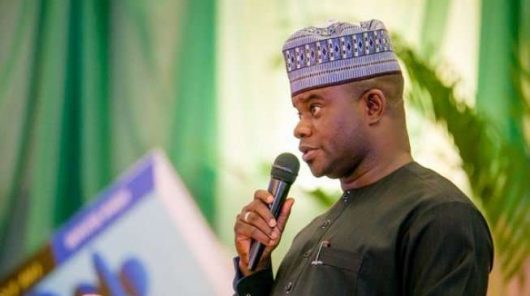 By Stanley Onyekwere
Governor Yahaya Bello of Kogi State has claimed that the appointment of Dr. Ramatu Tijjani Aliyu, as Minister of state for FCT, has strengthened the place of women in the political party dynamics of the country.
This, the Governor has enabled the ruling All Progressives Congress (APC) to effectively market the party's programmes as it relates to women empowerment and development.
The governor also described the Minister as a bridge builder and skillful mobilizer that deserves honour both at home and national level, adding that her ministerial appointment was not a surprise to many supporters of the APC.
He made this assertion during the grand reception organised by the First Lady of Kogi State, Hajia Rashida Yahaya Bello, in honour of FCT Minister of State, Dr. Ramatu Tijjani Aliyu, at the Government House Lokoja, at the weekend.
In a statement from Mr. Austine Elemue, Special Assistant (Media), to FCT Minister of State, Bello affirmed that 55 percent of women that cast their ballots for President Muhammadu Buhari during the 2019 general elections was the handiwork of Aliyu.
It added that the governor who was represented by the Secretary to the State Government, Mrs. Shade Ayoade, also applauded the poverty alleviation programmes initiated by the Minister in rural communities.
"A woman of relentless vigour, she initiated a grassroot women mobilization machinery with a penetrating door-to-door campaign in private homes in the six-geo political zones of the country as a strategic effort to market unique selling points of the APC presidential flag bearer and his running mate.
"To complement the gains of her insight, Hajiya Ramatu mounted a vigorous outreach programme with market women right inside their respective stalls and trade posts in virtually all the 36 states of the federation and the Federal Capital Territory, FCT.
"An avowed crusader, she visited homes of notable leaders of various ethnic tribal associations in strategic parts of the country from Sokoto through Ile-Ife to Uyo, extolling the virtues of Gen. Buhari's antecedents as a bridge builder with consummate passion for a new Nigeria of equal opportunity for all, especially the women.
"It is therefore not surprising that over 55% of the electorate, who elected Gen. Muhammadu Buhari as president, we're women. A most telling endorsement of her tireless efforts in the emergence of Nigeria's 4th elected president," Bello was quoted in the statement..
In her response, the Minister thanked the government and people of the state for the warm reception accorded her, just as she promised to be a crusader by serving the people of Kogi as their servant.