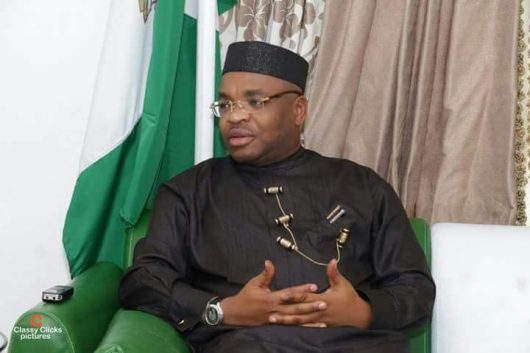 Akwa Ibom State's government-sponsored Christmas Carol Night, Dec. 21 2018 provided the opportunity for governor Udom Emmanuel to announce that a state-owned airline tagged "Ibom Air" was on the way. When it does arrive it will "lessen the problems currently being encountered by numerous air travellers" to the state. He said the planned "wholly state-owned" airline would ensure Akwa Ibom "remains a destination of choice for foreign investors". He added that "Our state-owned and run Obong Victor Attah International Airport has a category 2 runway and work is ongoing on the second taxi way." According to him, work is progressing "steadily" on the Ibom Deep Seaport and road projects across the state. "Our dream to open up our state through land, air, and sea will come full cycle."
Mr. Emmanuel seized the chance to lash out at his critics. "When we promised all these, our naysayers said it couldn't be done, and some are still deluding themselves that it hasn't been done, even when they are driving on the road we have built, are enjoying the steady electricity we have provided, are being treated in the world class hospitals we have remodeled and equipped with modern amenities, and whose children are receiving quality education in our public schools. We will, however, not relent; we will not give in to propaganda or blackmail."
Firstly, we must acknowledge one positive for the Akwa Ibom government led by Mr. Emmanuel. Under him, the state achieved the over 1 trillion naira annual budget mark last year. Previously, only Lagos had done so. The federal budget last year was N8.9trn; this year it is N8.8trn. He is also using the money judiciously too. The state is receiving a lot of physical facelift in the form of road building and port construction. For this we commend the governor and his team.
However, floating an airline is a shot off target. Yes, it is good to think big but it should be ambition made of "sterner stuff". Airlines are costly to run, even by private owners and they hardly are profitable. We only need to point to the failure of Nigeria Airways and Air Afrique run by French-speaking West African countries to underscore the foolishness of setting up a state-run airline. Of course, we may say Ethiopia Airline is a very successful government-owned airline but it is one success story out of several bad stories. Even the Federal Government which toyed with the idea of returning to the business with a rebranded Nigeria Air last December had had to "suspend" the launch indefinitely after a rethink.
We strongly urge the Akwa Ibom government to do a similar rethink to avoid the Nigeria Airways disaster. It can still achieve its dream of making the state "a destination of choice" by persuading existing private airlines to direct more flights than they are already doing to the airport at the Uyo, the state capital. It will be a wiser thing to do.