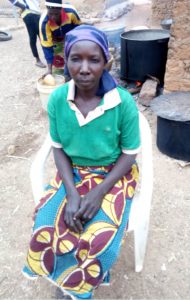 35 year- old Housewife Jummai Joseph was pregnant with her fifth child when she was rushed to the hospital to deliver the baby after spending two days at home. She had four children previously who were delivered at home in her remote village.
By Mohammed Ibrahim
It's has been a tradition for women in her position to deliver at home without help from traditional Birth Attendants or Nurses because there are none in her community.
"We deliver our babies at home because we don't have a primary health care facility near to us or in the community," she said.
"The nearest health facility close to our village is at Kawo community about 10 kilometres from my village," She added.
She said that their men don't have cars so pregnant women are conveyed to Rigachikun community via motorcycles before boarding a vehicle that will take them to Kawo General Hospital.
"Women in this village don't attend ante-natal due to distance which led to Visco Virgina Fistula (VVF) which is the leakage of urine and faeces through the virgin due to prolong labour.
"The community is just a stone throw from Kaduna main city which makes it close to the city but seem far from development."
Welcome to Kafin Gwari village lo cated in Igabi Local Government Area of Kaduna State North-West Nigeria.
The Gbagyi dominated community has over I50 men, Women, old and children living in the mud houses.
Kafin Gwari like other northern remote villages lack social amenities such as clean portable water, electricity, primary health care among others.
The village was surrounded by other remote villages like kwarakwara, Kafin Ganye, Kabobo, Sauran Giwa, Tama among others.
Jummai who delivered at Kawo General Hospital after undergoing a surgery lost the baby which was said to be as a result of prolonged labour.
"It was after they removed the lifeless baby that I started urinating uncontrollably .So, I was told I'm suffering from Visco Virginia Fistola VVF. I became sad that I almost lost my life," she narrated .
She was later transferred to VVF centre in Zaria city for better treatment where she had two surgeries.
" My husband and I spent a lot of money to get it treated. Honestly, the sickness is bad for women because ever since I had it my life has never been same.
"Some men do abandon their wives who are suffering from VVF for a fault not theirs.
"Our men used to forget that when they marry us we are not with VVF but the moment a women gets it the man ended up living or divorcing her which is very unfortunate," She said.
Although her case was different because her husband stood by her during the treatment as she remained his only wife for almost 15 years of marriage.
On whether early marriage for girls can be attributed to the rates of VVF cases in the community, Jummai said no.
She explained that her first child was three years old before given birth to her second child and third child respectively.
"Only my fourth and fifth child have two years gap in between. So, early marriage is not the case here because for me I got marriage at age 20 and I gave birth to four children . It was while given birth to my fifth child that I got VVF," she explained.
Jummai pleaded with men to always have patient with their wives who have VVF.
Another house wife, Esther Marcus confirmed that there are about 20 women she knew with VVF in the village.
" There are about 20 women with cases of VVF mostly as a result of prolong labour. This is why we need a PHC to be built closed to our village," She said.
Esther, a mother of one, said majority of women give birth with the help of experienced women in the community.
It was gathered that in most cases the newborn are usually lost and the mothers left on sick beds.
"Unless a woman couldn't deliver the baby on her own before we take her to health facility either in Rigachikun or Kawo community," she said.
The community also recorded high increase of miscarriages due to the bad condition of the road leading to the community.
55 year- old Village Head of the Community, Dikon Danjuma said losing newborn babies during child birth has become regular in the area.
" We lost several newborn babies in this community due to so many factors part of which are lack of PHC close to us and Trained Birth Attendants in the village," he said.
He urged the government to rescue the community from losing its future generation.
The World Health Organisation (WHO) described fistula as "the single most dramatic aftermath of neglected childbirth."
Nigeria has the highest prevalence rate of VVF in the world.
The United Nations said about 90% of VVF in Nigeria is from obstructed labour adding that 80,000 Nigerian women suffer from it annually.
Research revealed that prevalence is high in Eastern and Northern Nigeria with Ebonyi state in Eastern Nigeria topping the list.
Women like Jummai with VVF are still stigmatized and socially isolated, particularly in rural communities.
Stakeholders believe that all hands must be on deck to prevent and control VVF in Nigeria, especially in rural areas in the northern part of the country.