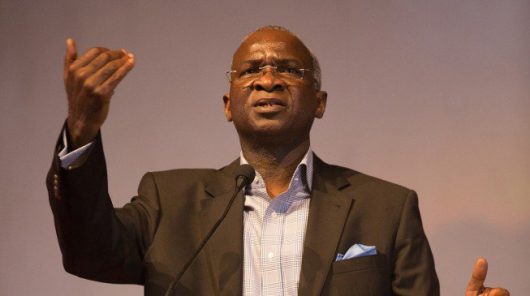 In a shocking move, President Buhari at resumption of office in 2015 – decided to merge three critical ministries under one minister. The previously separate ministries of Power, Works and Housing became one under former Governor of Lagos state, Babatunde Raji Fashola – which led to him being dubbed by Nigerians as the Super Minister.
This heightened the expectation of Nigerians about what results the minister could deliver under such obviously difficult arrangement. On resumption of office as minister, Fashola assured Nigerians that he was up to the task.
Four years after, it is time to look over our shoulders and see what has been achieved.
While speaking on his own performance in housing, the minister said public buildings like the federal secretariats in Zamfara, Bayelsa, Nasarawa and Ekiti and the Zik Mausoleum in Onitsha had now been practically completed.
On the pilot National Housing Programme (NHP), he said it has led to a nationwide housing construction being undertaken in the 34 states where government had received land.
"No less than 1,000 people are employed on each site apart from the staff of the successful contractors. These sites are an ecosystem of human enterprise, where artisans, vendors, suppliers and craftsmen converge to partake of opportunities and contribute to nation building. These are some of the most vulnerable people for whom President Buhari has delivered," Fashola said.
According to him, housing institutions like the Federal Mortgage Bank of Nigeria (FMBN) and the Federal Housing Authority (FHA) have also greatly contributed in the development of the sector; and that policies like the reduction of equity contribution from 5 per cent to 0 per cent for those seeking mortgage loans of up to N5million, and reduction from 15 per cent to 10 per cent for those seeking loans over N5million were helping to ease access to housing.
One of the ministry's other achievement according to him is the reduction of the backlog of issuance of consent and Certificates of Occupancy to federal government's land, adding that a total of 1,216 application for consent to transfer interests in land application and 1,300 certificates of occupancy have been approved and signed respectively as at October 25, 2018.
While some of these are laudable, it has been observed that the houses built through the National Housing Programme for example are yet to be given out especially because their prices have not been determined. Such bureaucratic bottlenecks have in the past led to the failure of such housing projects which remain idle and unutilized. Going forward, there is need to quickly address this problem.
Another noticeable challenge to the project is the recent closing down of building works in Gwagwalada Area Council of the FCT, following regulation orders from FCDA. The buildings as we can gather is being built in contravention to FCDA land regulations. It is the hope of many that whatever the issue is be resolved soon enough.
To address Nigeria's housing problems, especially its deficit which many sources put at about 17 million, it has been rightly argued that it will take a collaborative effort for reasonable results to be achieved. This forms one of the major criticisms of the Minister by housing stakeholders who think that the Minister hasn't fared very well in terms of stakeholders' partnership.
The ministry's current level of performance would have been boosted if the several public and private sector stakeholders contributing significantly to housing development in Nigeria have been engaged in a forum of ideas and professional support to fashion out a unitary agenda for tackling the problem of housing in Nigeria.
It would have greatly benefitted the ministry to learn from these stakeholders about their peculiar challenges and how best to confront them. Other areas of collaborative support from the ministry, especially in terms of regulation and policy would have eased the work of these stakeholders and reduce the attendant hindrances to performance.
Also, as has always been feared, one of the drawbacks for the Minister is the merging of the three major ministries. Sector stakeholders believe that more would have been achieved if the ministry of Housing stood on its own.
In comparison, one could see that more efforts were concentrated in the other ministries of power and works.
This has now been set as an agenda for President Buhari as he prepares to begin a second term, to untangle the ministries and hand them over to separate ministers in order to ensure specialized commitment.
If that is done, the incoming minister of Housing ought to learn from the problems that have been highlighted above and address them immediately in order to deliver affordable mass housing for Nigerians.
Source :HousingNews