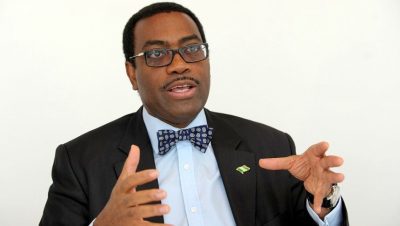 Dr. Akinwumi Adesina, Tuesday, took a new oath of office after he won reelection as President of African Development Bank (AfDB) Aug. 27 for another 5 years. He received the unanimous vote of the bank's governors, regional and non-regional members. The swearing-in and oath-taking ceremony, in Abuja, was broadcast virtually. In attendance were Africa's heads of state and government, AfDB governors, Nigeria's former Vice President Atiku Abubakar, and over 200 external stakeholders who joined physically and virtually. The Chairperson of the AfDB board of governors and Ghana's Finance Minister, Kenneth Ofori-Attah, administered the oath of office.
Before the vote, Adesina, Nigeria's former minister of agriculture and rural development, stressed the need for unity to enable the continent to pull together and stay focused on the goal of fighting the effect of the Covid-19 pandemic on Africa's economy. "Pulling together has always been the strength of the African Development Bank,"
Adesina said. "Today, a rainbow stretches from the 81 member countries of the African Development Bank across the deep blue skies of Africa. The future beckons us for a more developed Africa and a much stronger and resilient African Development Bank."
Going forward in his new term, Adesina said he would focus on building on the collective achievements and a stronger and more resilient African Bank Group. "Our focus will be on institutions, people, delivery and sustainability. Together we win for Africa. Yet again, let us move forward, driven by the power of our mission, inspired by the primacy of our vision and emboldened by the strength of our togetherness."
Ofori-Atta, who administered the Oath Office, explained that he had no doubt that Africa's premier development bank had secured the right leadership. "We need to continue to steer and direct the Bank's efforts to setting global standards of excellence, integrity, commitment to service and responsiveness to the challenges of the continent."
Adesina's seemingly easy victory did not reflect the huge odds stacked against him in the run up to the AfDB 2020 Annual Meeting. A group of whistleblowers cooked up a number of corruption allegations against him. Their 15-page report claimed that, under his watch, the bank had been tarred by poor governance, impunity, personal enrichment and favouritism. However, he was cleared by the bank's ethics committee. Not satisfied, America, the second biggest stakeholder in the bank, demanded an independent inquiry. Again. Adesina was found to be blameless.
At that point, we smelt a rat. In a June 18 editorial "Africa should support its own"., we said inter alia: "It is no secret that the U.S. does not want a Nigerian to head the AfDB. For years it has used its vote and those of its European allies to stop candidates put up by Nigeria for the bank's president. Adesina, however, broke the jinx in 2015 and America did not like that. This is why it is pulling all the stops to stop Adesina's reelection."
In another editorial 'AfDB: our Adesina vindicated" on July 28, we warned that "the United States is sure to lose face again, given the solid support Adesina has received from President Muhammadu Buhari and his 52 colleagues in the African Union (AU). Africa welcomes America's partnership, but this is not to say it will always have its way. A second wave of colonialism is out of the question." Another reason we gave was Adesina's sterling performance so far in that position. "The AfDB is Africa's biggest multilateral lender and, under Adesina, it has an AAA rating from Fitch Ratings, Moody's Investors Service and S&P Global Ratings. Its shareholders are Africa's 54 nations and 27 countries in the Americas, Europe, Middle East and Asia. In March, the lender issued a $3 billion social bond to help African countries deal with the fallout from the coronavirus pandemic. Bids for the securities on the London money market exceeded $4.6 billion. The bank also launched a $10 billion crisis-response facility for African nations. These are no small achievements. It is a shame that rather commendation, Adesina is being rubbished by Washington's hangmen or moles in the bank. If he is the devil that he is being made to be, why is it that nobody is running against him in next month's presidential election?"
In the event. Adesina was reelected thanks to the solid vote of African governors. We urged this in our earlier editorials. This stolidity of the African vote was largely helped by Nigeria's smart decision to raise its voting right at just the right moment. Now that our man is back at the helm, AfDB can only expect to scale new heights.