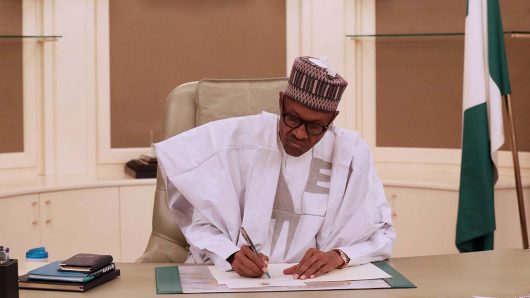 Nigeria, in the coming days, will sign up to the African Continental Free Trade Area (AfCFTA) agreement. This is coming after almost a year of hesitation. President Muhammadu Buhari, Wednesday, approved the recommendations of the Presidential Committee on the Impact and Readiness Assessment of the agreement. Buhari had delayed his assent, saying he wanted to consult widely before doing so.
A statement by presidential spokesman Garba Shehu said Buhari would sign the first phase of the agreement "in the course of his attendance at the Mid-Year Coordination Meeting of the African Union and 12th Extraordinary Summit on AfCFTA in Niamey, Niger Republic in a few days' time." Any country that signs the first level will then go into country level discussions leading to treaties after safeguards are agreed to. In accepting the reports as submitted, President Buhari made it clear that the Nigerian government would be seeking to include "terms that engender the development of policies that promote African production among other benefits.
"Africa, therefore, needs not only a trade policy but also a continental manufacturing agenda. Our vision for intra-African trade is for the free movement of 'made in Africa goods'. That is, goods and services made locally with dominant African content in terms of raw materials and value addition. If I we allow unbridled imports to continue, it will dominate our trade. The implication of this is that coastal importing nations will prosper while landlocked nations will continue to suffer and depend on aid."
In our editorial of Nov. 1 2018, supported Nigeria cautious approach to AfCFTA. The comment "AfCFTA: Let Africa wait for Nigeria" said inter alia: "From all indications, Nigeria is being pressured, blackmailed even, to sign up to a deal whose potential benefits and cost implications for its economy it has not yet grasped. We are being made to look like the continent's bad boy. We think this is grossly unfair.
" Nigeria loves to see more of intra-African trade than is the case now. However, as it is, Nigeria cannot go into the deal with a very weak manufacturing sector, that is if there is even one. Its main export is crude oil and the market for it is not found in Africa. In contrast, South Africa is a manufacturing giant on the continent. If we go into this deal we shall be doing so not as equals, but a disadvantaged partner, blindfolded. This will not be in our self a enlightened interest. We cannot love the outsider more than ourselves. If Africa wants, let it wait for us."
We do not know what has changed since March 21 2018 when Nigeria declared it was not ready for AfCFTA. The presidential committee led by Dr. Desmond Guobadia, after reviewing concerns about the agreement, recommended that Nigeria append its signature, saying "on the balance", the country stands to gain. "Our reports show that, on the balance, Nigeria should consider joining the AfCFTA, and using the opportunity of the ongoing AfCFTA Phase I negotiations to secure the necessary safeguards required to ensure that our domestic policies and programmes are not compromised," Guobadia told the president. The organized private sector, led by the Manufacturing Association of Nigeria (MAN), whose concerns Buhari shared, has also agreed Nigeria now can be part of AfCFTA. Having made clear our reservations and noted what stand to gain from the agreement, we now can go into deal with a clear head. So, AfCFTA, here we come.