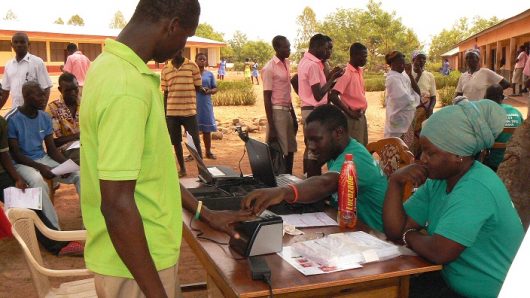 THURSDAY Column with Mohammed Adamu
(08035892325 sms only) | dankande2@gmail.com
I first visited the United States of America in 1998 under the U.S. Embassy-organized 'International Visitors' (Leadership) Program', a State Department's exchange initiative that annually brings current and emerging leaders from all parts of the world for a short term visit to that country with a view to learning the American socio-political and economic ways of life. The IVLP 'provides opportunities for foreign (especially) opinion makers to gain firsthand knowledge about U.S. society, culture and especially her politics'. During my visit I was one of fourteen beneficiaries variously drawn from Africa, Asia, South America and the Middle East, comprising mostly editors, governors of states, bureaucrats, members of parliament, of the armed forces and down to even local/municipal officials including one particularly from the Occupied Territories in Palestine.
My group had the privilege of understudying particularly the United States' system of political and governmental administration especially at the two lower tiers of government, namely states and local governments. And our program was especially timed to coincide with that country's Mid-Term elections, a period when most of America's elective political offices, with the exception of the presidency, are thrown up for contest. Mid-Term elections in the United States are a species of 'general elections' held 'near the midpoint of a President's four-year term in office' -hence the term 'Mid-Term'. These elections throw up mostly federal, states and often municipal offices for contest, including 'all 435 seats in the U.S. House of Representatives and about 34 of the 100 seats in the United States Senate', where members have a six-yearly term, about one-third of who's seats are usually up for renewal at the two-yearly circle of Mid-Term elections instead of the four-yearly circle of Presidential elections.
In addition to federal seats, 34 of the fifty states of the United States also go to the polls during the Mid-Term period to elect their governors with the exception only of the states of Vermont and New Hampshire that are known to elect their governors twice within the traditional four-year term period. Meaning that during both the two-yearly Mid-Term and the four-yearly Presidential elections these two states throw up their governorship seats for contest, in consequence of which therefore their governors enjoy only a two-year term and not the usual four. Plus many states in the U.S. are known also to elect their representatives to state legislatures during this period of Mid-Term elections, as do also Municipal governments who elect mayors and other local public officers.
And so one of the significant aspects of the period of Midterm elections in the United States is that away from the four-yearly tension-soaked contest for who next governs the most preeminently powerful country in the world, this staggered species of the American electoral process provides an avenue especially for the two major political parties (the Republican and the Democratic parties) essentially to attempt to establish control over the legislatures at both states and federal levels or for parties already in control of legislatures, to seek to maintain their grips. Plus it is also during Mid-Term elections that issues of specific concern to the people or what are referred to as 'measures' –which state legislatures would not legislate upon- may be put on the ballot through a variety of what is called 'citizen initiative' in order to bring about legislation by popular will rather than by the legislative whim and caprices of legislators.
In the State of Oregon, the last of about fourteen states toured by our group, the debate over whether or not 'marijuana' should be legalized by the State for medical purposes (Medical Marijuana) was a citizen-initiated 'measure' that had just finally made it on to the ballot for Oregonians that year to decide at the Mid-Term elections. It had required a certain percentage of the eligible voters of the State to sign for the proposed measure through a purely non-governmental, non-political citizen campaign, to qualify the controversial issue of Medical Marijuana to be put on the ballot for the electorate to vote either yes or no. A 'citizen initiative' is thus a means by which 'a certain minimum number of registered voters can cause a referendum or public vote on a matter, in parliament'. And so election periods in the United States are not just legally timed avenues for the renewal of mandates to political offices, they are also periods when citizens organize without regards to partisan differences to force down the throats especially of obstinate legislatures, issues which are generally of concern to the society.
But not so in Nigeria. Election periods are anything put avenues for the renewal of mandates and for the resolution of matters of common concern and benefits. Election times are potentially divisive times. They are times when tribes and tongues, religions and geographies go for each others' wind pipes. Election times are kegs of gun powder. They take us to the precipice. Whereas citizens in other climes beat the streets to collect signatures to put a 'measure' of common concern and benefit to the ballot, in my country sponsored thugs roam the streets maiming, killing and mutilating and disparaging those things that symbolize the sanctity of the electoral process, namely the ballot box and the ballot paper.
Here in Nigeria, crucial executive and private member bills aiming to correct many of our societal ills are gathering dust for years on the shelves of our self-aggrandizing, lazy parliaments. Here in Nigeria our youth what is termed 'citizens-initiatives', let alone know what it means to put a 'measure' on the ballot. They know only how to steal the ballot. Nor do our legislators care to pass crucial 'measures'. The late Chief Justice Dahiru Musdapher's 11-month judicial reform program was reduced to an amendment proposal (bill) which he sent to the NASS seeking to correct some of the many ills bedeviling the judiciary. It's been seven years now since he made that proposal to David Mark's NASS. The Saraki NASS, too busy fighting the Executive for selfish ends, has only shelved more such crucial bills for the dust to bury.
Epilogue
Unlike the U.S. Mid-Term elections which are held biennially, the United States presidential elections are held quadrennially or after every four years, with mainly the Presidency and a couple of other federal, states and local elective offices, on the same ballot. A significant number especially of federal legislators not electable during Mid-Term elections are jointly elected on the same ballot with the President. And so, what is interesting here is that rather than hold virtually all federal, states and local councils elections in a two or three-weekly-spaced period like we do here in Nigeria, in the United States elections are halved mainly into two circles of a two-yearly Mid-Term and a four-yearly essentially presidential affairs –with the pleasant effect that each period micro-manages only half of the nation's electoral exigencies at a time. Thus America's electoral system can be said to be a unique species of staggered elections spaced two-yearly instead of merely weeks in-between.
No nation needs such widely-spaced staggered system of elections more than Nigeria does. And since we are fated to have an electoral system the micro-managing of which requires that 'security' is of the utmost essence, maybe it is time we begin to bite our electoral exigencies in bits and pieces rather than in chunks or wholes. The electoral umpire itself, election officials, security agencies and others with important roles to play on election day need to be a little less overwhelmed by the sheer size of areas to police, sensitive materials to secure, persons, personnel and polling centers to man and to protect. Maybe we should consider conducting all our elections 'one state at a time'. At three dedicated days per state, it will only take us about four months to conclude all elections in the 36 states plus Abuja. If we do that in one piece, not in pieces, it'll be worth the time. It takes even almighty America two years to conclude its two circles of Mid-Term and Presidential elections.