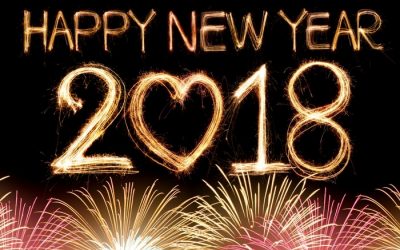 Today, we start the new year of 2018. Undoubtedly, it is with a huge sigh of relief that Nigerians are transiting to the New Year. Their hope is that it will be, indeed, a "happy and prosperous" 2018. We pray that this will not remain just a traditional wish but a reality.
Truth be told, 2017 singularly was a bad year for Nigeria. Politically, the protracted health challenge of President Muhammadu Buhari (PMB) and, as a result, his long medical treatment in the United Kingdom (UK), very nearly returned the country to the constitutional crisis that trailed the illness and eventual demise of President Umaru Musa Yar'adua in 2007. What saved the day was Buhari's wise decision to make Vice President Yemi Osinbajo acting president in his long absence. Nonetheless, the political temperature rose to a point that left Nigeria tottering.
Attention turned to, not whether Osinbajo's feet would be able to fit into the big shoes of the president but whether, if Buhari eventually returned alive, he would be able to continue in office. The opposition had even suggested,without the benefit of an authentic medical report by the president's doctors, that Buhari was "brain dead" and "on life support". In his absence, there were opposition-organised rallies that called for his resignation and those that countered that suggestion, apparently called by sympathizers. Sadly, that uncalled for debate and skulduggery brought governance, across the nation, to a standstill. State governors and ministers abandoned their jobs to undertake a medical pilgrimage to London.
Economically, in 2017 Nigeria entered a recession, the first time in its over 50-year history as an independent nation. Growth dipped below zero; in other words, it was negative. Inflation rose to an unprecented 17 percent high; job losses doubled in the period between 2015 and last year, hitting almost 30 million over all in a population of supposedly 170 million. Hunger, caused by scarcities and high prices stared millions of Nigerians in the face. In the midst of this mass frustration, some top government officials were doing their damnedest best to undermine Buhari's anti-graft campaign that has struck a cord with a majority of Nigerians across the political divide.
Somehow, along the way the miraculous happened. Buhari was not only able to recover in spite of the predictions of doomsday prophets, but also return to his desk, much more fit and rearing to go. His political adversaries, who had predicted his imminent death, were forced to eat their word. Almost at the same time, the economy rebounded, avoiding the depression that many had predicted. The international price of crude rose marginally; inflation fell significantly to 14 percent. These were gains of tough decisions taken by Buhari's economic team, with his approval, of course. The decisions included stopping of the importation of luxury goods and those that could be produced at home. Previously, those banned imports consumed a lot of scarce foreign exchange.
Regretably, the providential intervention came too late to translate to comfort for ordinary Nigerians. To further dampen the national mood, in the last month of 2017, a most devastating fuel scarcity hit the nation. What government officials claimed was panic buying that would fizzle out in a matter of days became a long drawn out energy crisis, the crippling impact of which we still feel this first day of the New Year and, frightfully, more days to come. That aside, there is a growing concern over Boko Haram's apparent comeback after the violent group had been dismissed as "technically defeated". The governmemt recently responded to this concern by extending the tenure of military chiefs due for retirement and getting governors' approval to t take 5$ 1bn from the excess crude account to buy new arms and retrain fighting troops.
This is the sad broad canvas of 2017. This is why most Nigerians, understandably, would be dismissive about a "happy and prosperous" 2018 wish. But we have no choice but believe President Buhari's word in his 2017 Christmas goodwill messge: his government has a firm hand on the handle. This is a promise; it remains to walk the talk.