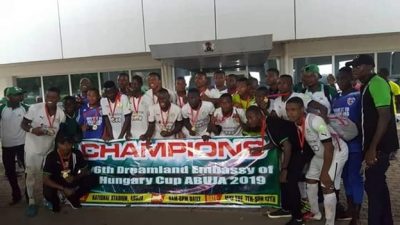 By Amaechi Agbo
The 8th edition of the most outstanding' and glamourous youth football scouting competition in Nigeria, the Dreamland-Embassy of Hungary Cup earlier slated to hold in November this year has been postponed.
The postponement of the nine-day scouting programme became inevitable following the non-lifting of ban on contact sports by the federal government of Nigeria.
This is the third time the tournament would be postponed following its earlier postponement in May no thanks to the ravaging Covid-19 that had paralysed every sector of the economy.
It could be recalled that the double award-winning tournament which has become a household name in Nigeria and outside the shores of the country was scheduled to hold in May, 2020.
The next edition of the tournament which has produced several players who are now in various leagues in Hungary and other European countries will hold from March, Saturday 6th to Sunday14th, 2021.
Director of the competition, Mr Ndudi Emmanuel Edede told newsmen on Monday that the management of Dreamland Football Academy (organizers of the tournament), the Embassy of Hungary in Abuja, Trust Gelei Es Tarsa kft, FCT Football Association and other key partners reached the new date after a consultative meeting.
Speaking in a chat, Mr Edede who is also the Chief Executive Officer, CEO of Dreamland Football Academy, said that the tournament will see massive improvement in this year's edition adding that the organisers are putting modalities in place to ensure that the academies and clubs that would participate had a good experience.
"This postponement of date has become imperative as the federal government is yet to lift ban on contact sports as a result of covid-19. Despite the situation the country is facing right now, we are assuring our partners that this edition will witness much improvement from the last edition as the capacity of participating teams has been increased from twelve to sixteen team.
"We therefore use this medium to notify all the registered teams for the youth football competition and the general public to kindly take note of the new date," he said.
The organisers noted with deep regret any inconvenience this development might cause the registered teams, partners and fans of the tournament who have been eagerly waiting for the commencement of the competition.
Galadima Football Academy of Abuja are the defending champions of the 7th Dreamland-Embassy of Hungary Cup Abuja, 2019.
They emerged victorious on November 17, 2019, after defeating hard-fighting Hooke Sports Football Academy, also of Abuja, 5-3 in penalty shootouts that followed the goalless draw at regulation time.