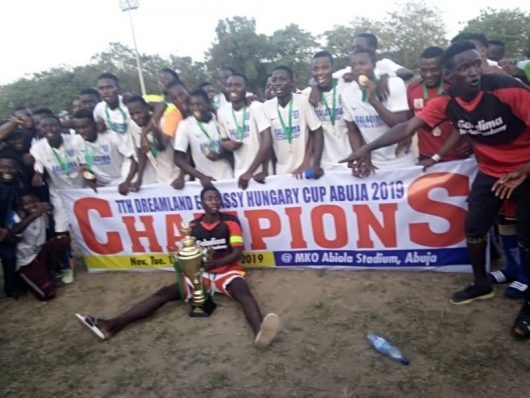 By Amaechi Agbo
The organisers of the most glamorous and successful youth scouting football tournament in Nigeria, Dreamland-Embassy of Hungary Cup, has announced a new date for the 8th edition of the competition.
The next edition of the tournament which has produced several players who are now in various leagues in Hungary and other European countries will hold from Saturday 14 – Sunday 22, November, 2020.
Director of the Organising Committee, Mr Ndudi Edede told our correspondent Monday that the management of Dreamland Football Academy (organizers of the tournament). the Embassy of Hungary in Abuja, Trust Gelei Es Tarsa kft, FCT football Association and other key partners reached the new date after a consultative meeting.
Speaking in a chat, Mr Ndudi said that the tournament will see massive improvement in this year's edition adding that the organisers are putting modalities in place to ensure that the academies and clubs that would participate had a good experience.
He noted that the November 14 to 22 date is tentative pending when the ravaging Coronavirus pandemic in the country is fought to a standstill and government as well as Nigeria Football Federation given a go ahead for recommencement of football activities in the country.
"For clubs and academies that have been consistent in participating in the Dreamland-Embassy of Hungary Cup Tournament, they will attest to the fact that we have been consistent in improving the tournament in every edition and the 8th will not be different. We are pitting all modalities in place to ensure that the next edition has a greater review and improvement than the 7th edition.
"Also the new date is tentatively fixed due to the ravaging effect of coronavirus in the country and across the world. For now the government and the Nigeria Football Federation have not given a green light on when football activities will resume in the country but we are confident that the war against this pandemic will be won.
"So we are working ahead of time believing that once the government issues a statement on football activities, we will roll out our plans and the tournament will go as planned."
It could be recalled that the 8th edition of the Dreamland-Embassy of Hungary Cup Tournament which was originally scheduled to hold from May 22nd – 30th, 2020 at MKO Abiola Stadium, Abuja was indefinitely postponed following the outbreak of COVID-19 in the country in March.
Galadima Football Academy of Abuja are the defending champions of the 7th Dreamland Embassy of Hungary Cup Abuja, 2019.
They emerged victorious November 17, 2019, after defeating hard-fighting Hooke Sports Football Academy, also of Abuja, 5-3 in penalty shootouts that followed the goalless draw at full time.