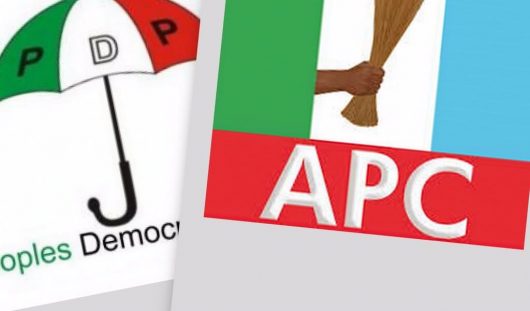 From Ibrahim Sidi Muh'd, Gusau
Over eight thousand members of the opposition All Progressives Congress (APC) including seven serving Councillors and a serving Vice Chairman in Zamfara State have dropped their membership cards for the ruling Peoples Democratic Party (PDP).
Declaring their defection yesterday at government house Gusau on behalf of other thousands decampees led by prominent politicians who include former Deputy Governor, Alhaji Mukhtar Anka, former Speaker State House of Assembly, Umar Bature Sambo, former SSG, Alhaji Mamman Bawa.
Others include, former Commissioners of Education and Health, Alhaji Ango Bakura and Kabir Ahmad Janyau respectively, younger brother of former Governor Mahmud Aliyu Shinkafi, Mukhtari Aliyu Shinkafi, former S.A to the former Governor on Environmental Matters, Aliyu Magaji Ajala.
Among the decampees were the former Commissioner Ministry of Youths and Sports, Abdullahi Gurbin Bore alongside 194 APC Ward Chairmen of Zurmi local government area with all their Exco, it also reflected on the list, the defection of former 198 Senior Special Advisers to the immediate past Governor.
Speaking, the decamped former Speaker State House of Assembly, Umar Bature Sambo said, the massive exit from the opposition APC must not be unconnected with the level of satisfaction on the achievement made by the present Bello Matawalle-led administration in the restoration of peace in the state within just two months in office.
"Let me in strong terms, call on politicians to do away with politics on security matters, because we all play politics to make Zamfara safer for legitimate living and businesses, the present administration has achieved that already, and all we need is to stretch our supporting hands for consolidations", Bature has appealed.
He further challenged that, his defection alongside others was not aimed at financial gaining, adding that, "I am currently appointed as the Chairman, Nigeria Institute of International Affairs (NIIA) by the ruling APC at the center, while former Deputy Governor, Mukhtar Anka as Chairman Board of Teaching Hospital Port Harcourt".
Accepting the defection, Governor Bello Muhammad Matawalle threatened that, he will soon order the arrest of politicians who engaged in making contacts with the repented bandits aimed at convincing them back into the resolved criminal activities in the state.
"Security reports had it that, some unpatriotic politicians were hiding under the carpet in efforts to re-engage the repented bandits back to the filthy business of killings, kidnappings, cattle rustling and other high profiled criminal activities with a view to fail the dreams of the government and the Zamfarites", Matawalle has revealed.
The Governor has directed the leadership of the PDP to ensure equal treatment on the decampees as that of the bonafide members of the party, saying, "There is no diffrences between the bonafide and the newly decamped members, they are all equal and entitled to all opportunities", Matawalle has warned.