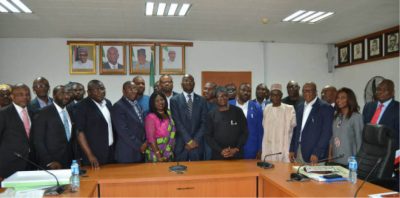 By Mashe Umaru Gwamna
The National President Association of Indigenous Construction of Contractors Nigeria (AICCON), Otunba Lekan-Osifeso said despite the construction industry in Nigeria spends over 1 trillion yearly, 75% contract sums go boards for weak participation of indigenous contractors over the years.
Lekan -Osifeso made the disclosure when he lead his team on a courtesy call to the Minister of Power, Works, and Housing, Babatunde Fashola yesterday in Abuja; Saying the aimed of the visit was to educate government officials on the need to prioritized local contractors in terms of patronage and referrals, instead of government using foreign contractors while the local contractors have so much experiences to offer then the foreigners contractors.
He said statistics have shown that, the ministry of power, works and housing annually contributed excess of N200bn to the construction industry.
Adding that when indigenous contractors are involved in all construction projects in the country, there will be a ripple effect on the economy and opening of better Job opportunities for the populace.
"Our forecast is that with increase in participation of indigenous companies by up 30%, capital flight cases will drop by 60% up to 40% of the wealth generated percolates the economy and construction related employment will grow by up to 25% annually. It will impact our gross domestic product (GDP) and yield better returns for government's investment ", Lekan Osifese emphasized.
The President maintained that, the association wants to build a formidable indigenous construction industry that is capable of attracting funding from financial institutions locally and internationally based on reputation and credibility, thus enhancing our participation in PPPs and construction finance projects.
He also pointed out that "it is time to build a Nigeria Construction empire that will be a cynosure eye wide and we can succeed if we start encouraging our own engineers, graduates and contractors.
The National president said the association seeks for a better patronage of indigenous contractors by creating a special category for verifiable indigenous companies, an approve acceptance of certificates during bidding processes and to enhance mobilization structure up to 40%.