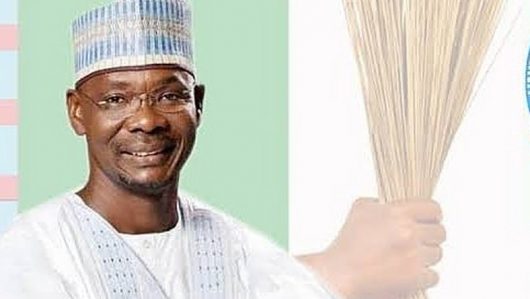 Tuesday Column By VICTORIA NGOZI IKEANO
vikeano@yahoo.co.uk 08033077519
Not many people are perhaps aware that even before rising to his current position as governor of Nasarawa State, Engineer Abdullahi Alhaji Sule had been contributing immensely to his home state through his philanthropic and other gestures. Nor would they be aware that he is not totally a novice in the Nigerian nay, Nasarawa political scene notwithstanding his rather long sojourn in the United States of America in search of the golden fleece where he had a distinguished career as a top class engineer, holding various high profile positions. Sule once dabbled into politics in 2006 as he sought to be governor of Nasarawa State. He did not succeed at the time for the simple reason that he was contesting from a 'wrong' platform – a little known, 'unpopular' party then. Essentially an entrepreneur/industrialist, Engr. Sule had since coming back home in 2000 and prior to his being governor, participated in several private and public projects in the state. "I had also invited and funded prospective foreign investors to come and take a look at the prospects of our state. I have participated and/ or single handedly renovated and built schools, clinics, houses of worship, security posts, etc". According to the governor his raison d'etre for seeking the highest political office in the state and his other philanthropic gesture is borne out of altruistic concerns rather than for financial gains as is the case with majority of politicians. For Nigerians generally, being elected or appointed into high political offices is considered as the 'shortest cut to making it'. This is different for Sule who was already financially well off before becoming chief executive of the state. Indeed, as chief executive of a blue chip company quoted on the stock exchange (his last designation before assuming the political office), it is learnt that his take home pay was above his current salary as governor.
So, what is the motivating factor? Service. He states that having been abroad during the struggles for establishment and eventual actualization of a Nasarawa State in 1996, he felt urged to make up for this 'absence' by contributing his quota to the relatively new state and to give back to his state through genuine service. Thus he sees his being governor as due to the special grace of the Almighty and the Nasarawa state electorate for which he should give nothing less than committed service through prudent management of its scarce resources. To this end, his administration has reviewed the fiscal Responsibility and Public Procurement laws and also set up the Bureau of Public Procurement to further strengthen due process and transparency in government transactions/business. A principled man, having apparently imbibed the corporate culture, Sule distinguishes between his private and public engagements unlike what obtains with the average Nigerian politician where the two are interwoven and both funded by the state. For example the wedding of one of his daughters during his early days as governor was exclusively funded from his personal resources as he resisted temptations/pressures from political aides/associates to do otherwise. There are other examples which shall not be cited here because Governor Sule apparently draws a fine line between his private/family affairs cum outings and public/official matters.
Another notable aspect of the governor is that he leverages on his rich friends to mobilize/attract investments and funds for some projects, including donations to universities, etc. For instance, Sule used his personal funds to renovate Government House Press Centre that was commissioned a few months ago; just as he egged his friends to contribute generously towards renovation and equipping of some science schools across the State while he himself has funded some other causes from his personal pocket. Being an engineer, it is not surprising that the governor is vigorously pursuing science education to support engineering, medical and technical needs, just as his administration is also giving serious attention to information, communication technology (ICT), otherwise known as the digital economy.
Born on an auspicious day and month of December 26, 1959, Sule is from a distinguished family, a royal family in Gudi Station, Akwanga local government council of Nasarawa State. His father, Alhaji Sule is the traditional ruler of the town. His grandfather (Abdullahi Angulu) being literally the founder of the town as one of the very first persons who settled there, was Gudi's first traditional ruler. The young Sule was educated at the Roman Catholic Mission Primary School, Gudi Station, Zang Secondary Commercial School Bukuru (near Jos) and Plateau State Polytechnic Barkin Ladi. The governor attended Indiana State University, USA where he bagged Bachelor of Science (BSc) degree (1983) and Master of Science (MSc) degree (1984) in Mechanical Technology and Industrial Technology respectively. After returning home for the mandatory one year youth service scheme, the Nasarawa state governor worked first, at the Plateau Utilities Board and later Jos Steel Rolling Company. He went back to the US in 1989 where he worked in many engineering positions some of which literally took him to the end of the world in oil exploration and finally headed back to Nigeria after some 11 years career sojourn abroad
In Nigeria, the vibrant A.A Sule as he is fondly called, established Sadiq Petroleum Nigeria Limited with some friends and was the company's pioneer Managing Director/Chief Executive Officer. The company later won the bid for privatization of the federal government-owned African Petroleum (AP), whereupon Engr. Sule became AP's Executive Director (Operations) in November 2000. In April 2001 he became the company's Managing Director/Chief Executive Officer. When he resigned from AP, he joined Tetra International (an American multinational oil service company) as Director of Business Development/Country Manager in December 2006. Before again entering the foray of partisan politics to contest in the APC primary election in 2018 and eventually the governorship election, Engr. A.A Sule was the Group Managing Director of Dangote Sugar Refinery, Lagos
After being sworn in, Governor Sule rolled out a 14-point agenda which focuses on what he called 'high impact projects'. It is perhaps not surprising that Governor Sule appears to have a bias for technical education cum skills acquisition given that he is himself a technical man as an engineer and the fact that youth employment is a key component of his agenda of taking Nasarawa State to the next level and exceeding expectations. He also gives serious thought to welfare of workers particularly with regard to providing them with essential tools for effective discharge of their duties. Members of the judiciary, civil servants and legislators all benefitted from such gesture. Overall Governor Sule is ending the year on a satisfactory note both personally and officially as he recently welcomed a set of twins into his family.