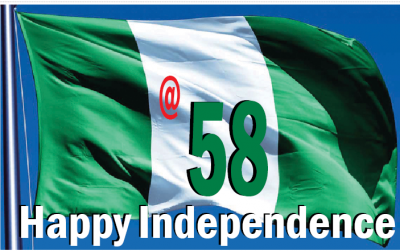 By Abdulkabeer Ibn Tijani
Nigeria a country weight over 180m population with diverse religions and ethnic groups is blessed with human,material and natural resources. In spite of this resources the country has not fully utilized resources at her disposal to develop all segment of the society. It becomes annoying and disheartening that the country attracted for herself sobriquets such as the giant of Africa, the pride of the black race and the elephant without nothing to show for it.
Successive government of Nigeria after one hundred and four years existence as a nation and 58years of political independence,we still fail in annexing the resources in producing meaningful development.The country is wallowing in abject poverty,diseases and no institutional mechanism to address this challenges. Where are we getting it wrong? Who are those responsible for our underdevelopment? and several others are the questions to be addressed
Nigeria Independence still has to be taken with a grain of salt. Indeed we keep celebrating the anniversary of our Independence but yet our political structure, economic policy and our way of doing things still left much to be said. The nation in totality is still in the hands of few political mosquitoes believing that they are too powerful to be dealt with because they have both financial and political muscle. They have turned this great country's resources into a National cake that must be shared among themselves,they pretend to be a Political in the day whereas they are thieves in the night.
However, today in history marks another celebration of our transition from British rule to self government given us the full fledged to legislate on anything whatsoever but on the other hand I keep shedding tears that at fifty eight years of emancipation we still cannot stand and walk, we keep speaking in staccato voice. We remain dumping ground for sub-standard goods from overseas. Our Public transport system is chaotic, power supply epileptic our hospitals are only good enough for people rejected by families and friends.Also, the education sector is an unmitigated calamity making all the democratic institution stunted.
In the very end,this country can still rise if we jettison politics with bitterness,corruption in high and low places,acrobatic religiosity and gymnastic ethnicity.We need to come together not as a divided people that we are now but to make some horrible changes in our polity which would usher in the needed development and re-shapen our lives because if we fail to act fast the promise land might never come and most likely make our heroes past go in vain.
Abdulkabeer Ibn Tijani is a Public Affairs Analyst.