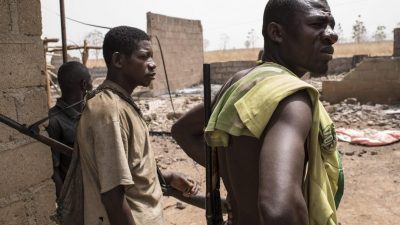 From Ibrahim SidiMuh'd Gusau
At least 42 people were killed while scores were fatally wounded when unidentified gunmen attacked Birane village in Zurmi Local Government Area of Zamfara state.
A resident of Zurmi simply identified as Muhammad Bello told newsmen that, the dangerous group which carried out the attack on Wednesday, ambushed and attacked a truck loaded with women and children who left Birane village around 5:00pm to attend a wedding ceremony in a neighbouring village.
According to him, they slaughtered them all including the driver and set up the helpless corpses ablaze.
He further narrated that, a wife and three children from Zurmi town who arrived the scene on a commercial motorcycle were nowhere to be found, while the dead body of the Okada man who conveyed them was later discovered.
"Although, there was a report that the gunmen would launch an attack on the village but nobody knew when, our attention was just drawn by some people who retired from bush and witnessed the incidence, even before we reached the scene, all the women and children on board were dead, while the gunmen proceeded to the market with sporadic shots on busy marketers".
Another eyewitness accounted said that, "They asked all the women in the truck to come down after they already slaughtered the driver, they slaughtered them one after the other and reloaded the corpses back on the truck and set them ablaze".
Contacted for comment, the state Police Public Relations Officer, DSP Shehu Muhammad confirmed the incident, adding that, members of the vigilante group in partnership with local hunters had earlier launched an attack on the camp of armed bandits down the bush where many were killed in a fire trade.
"The Command has not ascertained the figure of casualties yet, but is working closely with sister agencies to ensure law and order are maintained, and that nobody is expected to take the law into his or her hands as there are competent agencies established to face and control situations of this nature, a joint task force have already been deployed to the area," he said.