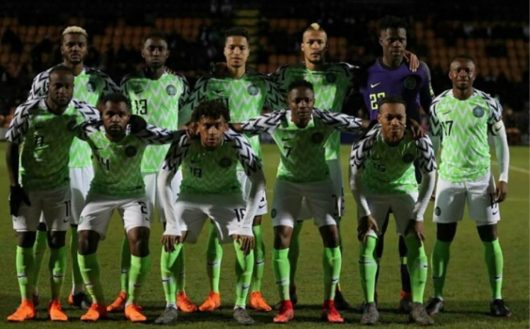 The exorbitant wish of football Nigerians is that the Super Eagles represent Nigeria well in Russia by being worthy opponents of whichever country they have to face.
With 32 days to their opening match against Croatia in Kaliningrad, Super Eagles' manager, Gernot Rohr on Monday released his 30-man provisional list for the Russia 2018 World Cup.
It included Junior Lokosa, who has scored 18 goals in the Nigeria Professional Football League, and Simeon [Simy] Nwankwo, who scored five goals for Serie A side, Crotone in April.
Rohr showed his hand with the list – a team for the future! The 30-man list has an average age of 24.96, and the eight-man midfield list shows the most experience – 25.12.
Also, 11 of the 30 players have less than 10 appearances while 10 have less than 20 caps translated to less than 20 appearances on the average, which shows a largely inexperienced squad compared to Iceland whose average is 38 caps for their 23-man squad.
The most active in the season was Olaoluwa Aina, a right back, on loan from Chelsea at Hull City, who played 44 matches while the players with the least minutes under his belt was Elderson Echiejile, who played just nine times the whole season.
For the 2017/18 season, all the outfield players minus Junior Lokosa who is still active for Kano Pillars in the Nigeria Professional Football season scored 58 goals. Another fact is that only three players – Echiejile, John Ogu, and Joel Obi are the strictly left-footed players on the list, a situation that could lead to some imbalances in the preparing the team tactically.
The composition of the Eagles squad shows a team missing an accomplished world-class star like Croatia have in Luka Modric and Ivan Rakitic, and Argentina have in Lionel Messi and Sergio Aguero. But Rohr has said he is building a team of ultra competitors.
"I said already, today I do not have a lot of stars, but we want to have a big team with a winning mentality, great discipline in the field and beyond, and a great deal of mutual solidarity and communion. This is the way to success," Rohr told journalists in Lagos last month.
Rohr has often stated that he is more interested in building for the future than retracing his steps, which showed in the choice of his four goalkeepers.
In an interview with Oma Akatugba after the 1-0 win over Poland in March, Rohr said the Poland test was good for the players and team because it afforded them a high-level test, especially in defending set pieces.
Has this squad list tried to solve this challenge? The answer will be a partial yes because most of the defenders chosen are as tall or taller than six foot and good in the air. Chidozie Awaziem may be a rookie but he fits the mold of defenders needed to protect the goalkeeper from aerial barrages.