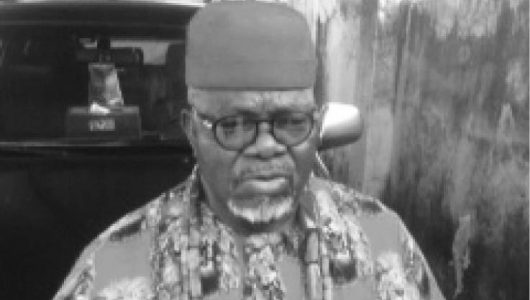 Gen. JOJ Okoloagu (Rtd) is a member of Board of Trustees (BoT) of the ruling All Progressives Congress (APC) and also a Board Member of the Nigeria Deposit Insurance Corporation (NDIC). In this interview with Ochiaka Ugwu, he bared his mind on Nigeria's political equations beyond 2023, Restructuring. Please enjoy
Since the last general election that returned President Muhammadu Buhari, there has been increasing calls for a South Easterner to succeed him, when his tenure elapses in 2023. What is the South East bringing to the table?
What the South East is saying is that every other zone has taken a shot at the presidency, since the beginning of this republic. It is only proper that the Igbos take their turn at the presidency. But like we know, Nigeria operates democratic governance, founded on the rule of law, with party politics and all. First and foremost, I want to make it abundantly clear that it is fair and proper to let the Igbos have a shot at the presidency. But it can only be done on a party platform. If the party the Igbos are using now is okay to give them the presidency, so be it. But if the party they have been patronizing is not strong enough to give them the presidency, what I Gen. JOJ Okoloagu, retired, is advocating is that, for peace, equity and good conscience, there should be a president of Igbo extraction and not necessarily an Igbo president when Buhari leaves office in 2023. The revered President Buhari has laid a good foundation for a new Nigeria, and you guys have to take it up from there because where I and Buhari are going, is shorter than where we have left. Both of us are above 70. Whatever President Buhari leaves behind is his legacy. But in terms of presidency, He should try and get a candidate of Igbo extraction to take over from him, after 2023, not minding the party the Igbos are patronizing now.
Again, I humbly appeal to my revered President, Muhammadu Buhari to ignore the hostility of the Igbo youths against him and his administration and be a nobleman, to make sure at the end of his tenure, an Igbo man succeeds him. All I want is president of Nigeria of Igbo extraction and I did not say Igbo president. Please get me clear, I advocate for a president of Igbo extraction that will be acceptable to all Nigerians, because he is going to govern all and not the Igbos only. As father of the nation, President Buhari has a huge role to play in the emergence of Nigeria president of Igbo extraction in 2023. I don't care what anybody may say; President Buhari has laid solid foundation for future of a new Nigeria.
For me, I entered politics in the opposition. I ran for senate under the platform of Action Congress (AC) where I won both at the election and the electoral tribunal, but lost it to corruption at the Court of Appeal. I ran again in 2011 under Action Congress of Nigeria (ACN) and lastly in 2015 under the All Progressives Congress (APC). I won in all of these elections but because votes don't count in the South East, I was denied of going to the senate.
If my people are allowed to continue the way they are going and the presidential democracy we are practicing is adhered to in its strict sense, I don't think, the Igbos can get the presidency. No zone in Nigeria can produce a president without the support of other zones, especially, the North, and to some extent, the South West. That is why I said, in all good conscience, if equity is to be employed in our politics, it is only proper that a Nigeria president of Igbo extraction is penciled down now and groomed properly because whether we like it or not, I have served Nigeria in different capacities: as a soldier for almost 35 years and as a politician for over 15 years. I can conveniently tell you the way the system works.
Invariably, the North is the kingmakers. Whoever they want to be president of Nigeria today, will become. It may hurt some people that I am saying so! I am a man of just one word, I ditch it out the way I see it because I have played this politics both in the military and in civil life because man is a political animal.
Cut in: Don't you think the agitation by IPOB will affect the clamour for president of Igbo extraction?
I don't know why people like making issues out of nothing. I fought the civil war. I have lived through the civil war and I am here today. Let me tell Nigerians the gospel truth, Biafra is not an option. The only way Biafra can materialize is when there is a natural disintegration of Nigeria. If in the course of our experience in governance, any section of the country has the misconception of lording it over other section of the country, Nigeria will disintegrate naturally. The kind of unity that existed in 1967, no longer exist today because the various ethnic groups have emancipated politically and culturally. The three dominant tribes in Nigeria: Hausa, Igbo and Yoruba better not think of making the mistake of lording it over other tribes in Nigeria. I pray Nigeria remains one because no disintegration takes place without a huge loss in both human and material resources. When I said Biafra is not an option, I have looked at it from a matured man's prism.
Politically, militarily and otherwise, I say, Biafra is not feasible. The youth won't like me because I said this but I must say it the way it is, Biafra is not a viable option in the face of unquantifiable Igbo investments in Nigeria.
Another angle to it is, we built this country together and there is no wishing away, the founding fathers like Dr. Nnamdi Azikiwe, Chief Obafemi Awolowo, Sir Ahmadu Bello, Alhaji Abubakar Tafawa Balewa and the rest of them. These are people who laboured to build this country. Any agitation that takes no cognizance of how we started will be like putting the cart before the horse.
Question:, Cut in: if disintegration happens, what happens to the investments of the Igbos in other parts of the country?
Investments are something tangible. I want to say that the Igbos have numerical strength in Nigeria because anywhere you go to in Nigeria, most of the artisans you have there are the Igbos. If you want to buy drug from the chemist or pharmacy, most of them are Igbo people. Any tribe that thinks Igbos can be wished away is making a mistake and that informs my suggestion that the political kingmakers should start looking for a president of Igbo extraction. Though, the Igbos don't have the right political alliance under the current circumstances but they have identity and characters abound that can fit into the presidency and these are gentlemen of Igbo extraction, from whom the kingmakers from the North, West and East can come together and say, for justice and fair play, let this man be given a chance. He or she can run under my party, the APC because it is a party to beat. I boast with it because it took us time to come together and we are going to stand together for a long while to come. So, it is in the best interest of the Igbos, if you will, to start romancing with the APC. I don't know how to hide my feelings. If not, how do you explain a situation where, in the South East, if you must go to the senate or Reps, you must belong to the PDP and the few that have broken the jinx now are men of deep pocket. Their positions in the APC as a party also helped them.
Until our democracy matures to a point where people vote count, this manipulation will continue. Call it PDP or the APC. The PDP is crying now, this is what we watch happened under them for 16 years. Except we are able to cure the malaise of electoral malpractices, we are not going anywhere with democracy.
Question: What is your assessment of Buhari government so far? Has he been able to carry every segment along?
Nobody is perfect. He might not have satisfied every expectation in his appointments but in executive system, you appoint those you think and believe will help you to succeed. President Buhari should be assessed based on the many successes he has recorded. It is under his watch that Nigeria recovered her territory from Boko Haram. It is under his watch that the TSA was instituted, which has reduced wastages and corruption in the running of government. It is under his watch that border closure came to be which has boosted patronage of local farm produce and reduced smuggling of petroleum products which is the mainstay of Nigeria's economy. The improvement in agriculture, power is another one. It is under his watch that for three years, I as an old man don't have to sleep at the filling station to get PMS to travel for Christmas or New Year. When you look at these positive things President Buhari has done, you realize that it is God that gave him power. More importantly, it is under watch of PMB that Nigeria experienced highest infrastructural rehabilitation and development. Today, you can travel to Kaduna by rail and in the South West, you can travel to Abeokuta and beyond.
However, that cannot be said on railway transportation improvement in the South East and South South. But that does not obliterate the massive railway infrastructural development in the country. Furthermore, the quality of road networks has significantly improved in the country more than any other administration in recent times. Unfortunately, the road networks in the South East particularly and South South cannot compare favourably with the quality of improvement in these infrastructures nationwide. Still, it does not take away this massive improvement in road network across the country since the inception of President Buhari's administration in 2015. At this juncture, I humbly call on PMB to institute a visitation panel on the maintenance or otherwise of the road and railway networks in the South East to stop any blackmail against this government by a zone or zones that may feel marginalized. This is in view of very numerous road accidents of vehicles and Lorries conveying good and services from the North to the East and vice versa, since every section of this country is interdependent on one another in the supply of food items and other services. The colossal loss of goods and persons on these bad roads particularly in the South East is unjustifiable given the amount of money invested by this administration in infrastructural development across the country. On balance, it is desirable that a presidential visitation panel on road and rail infrastructure be set up on the South East. It is also to the credit of President Buhari that the second Niger Bridge which every administration played politics with, never rarely got off the ground until this Buhari's administration.
What is your view on the call by most Nigerians to restructure the present federalism we have now?
As an individual, I may be biased because I am a product of regional government. I enjoyed Eastern Region scholarship in my secondary school days that was in the 60s. So, I am bound to be biased towards regional government. Then, the centre was weak and the regions were strong and Nigeria worked. The region fed the centre. Unitary Governance was foisted on Nigeria by the military after the 1966 coup. In fact, my kinsman, Gen. Ironsi foisted unitary governance on Nigeria. Since then, people who had come to power have seen the enormous advantage of controlling virtually everything. But this will not take us anywhere. I am an advocate of restructuring. You can call it regions or geopolitical zones, but the least that can be managed today are geopolitical zones. You can't have states as autonomous entities, but geopolitical zones can exist prominently as it was during the time of regions.
If there must be peace in this country and for any President to leave a legacy and institute stability, he must embrace restructuring, because if you restructure, you put away most of the agitations. Agitations, some of them are founded on misconception and in reality. Above all, you reduce that tension from the centre. This country has had an astronomical population explosion which is not marched with educational and industrial development, because if you don't have the educational development to absorb the population and the industry to meet up with challenges of the workforce, there is bound to be agitation. To take care of such things you have to regionalize and that is the way to go. I believe this will still happen in my life time. As I always say that where I am going is shorter than where I have come from. I want it happen so that my children and grand children will enjoy what I enjoyed coming up as a young man. That is why am committed to Nigeria because Nigeria has given me a lot of opportunities.
Could the fear of not tinkering with federalism based on the fact that some section may secede?
It may be peoples' opinion, but I am giving you a broad view of what Nigeria was and likely to be if you restructure. As a young man you have your ideas because you may be thinking to secede, but I tell you is not feasible. Most of people engaging on this secession of a thing are mostly youth who are well educated but don't have jobs. It is always hard to have enough job opportunities in a centralized government like ours. If you decentralize, these people will focus in their various regions to get absorbed. In all honesty, I like that popular jargon in Nigeria which says "No be person wey call Police they win" because the logistics involved are not there for any region to succeed upon breaking away. I want a situation where this country is restructured on the basis of the fact that the centre cannot foot the bill of numerous youth crying for jobs. Over centralization of power has encouraged nepotism, sectionalism and tribalism because everybody keeps minding about his own people.
Voices are gathering from every part of the nation asking for electoral reform to help in sanitizing our polity, what is your take on that sir?
I have been a victim of election manipulation and as I keep saying I have seen it all. People who couldn't manipulate President Buhari's election are crying. It happens to be the only man so far in the country who has gone through a lot to get this position destined for him by God almighty. He has experienced election manipulation and I expect him having been a victim of electoral manipulation to leave a legacy of electoral reform. Two things he will do to write his name in gold is electoral reform and restructuring. Nigeria president of Igbo extraction I may say because what is good for the geese is also good for the gender. This may be selfish but also very important. Electoral reform is very critical to the peaceful co-existence of this country.
This is because I see politics nose diving into the hands of youth. Matured people like us will soon retire and without electoral reform what you will get is violence. A youth who most time doesn't think deep will always resort to violence if feels manipulated in an election. You can see the kind of violence witnessed in the last election. It is mostly perpetuated by the youth and not old men like me. You can imagine when they involved in the actual contest and they are manipulated. I think that unless and until there is an electoral reform where peoples vote will count; we will just be doing rat race and rounding the corner. We may not be as advanced as Americans are, but I want a situation whereby immediately after voting election result are transmitted electronically to avoid manipulations by various interest groups. This will make it impossible for anybody to contradict the real result. Electoral reform is critical to the survival of our nation. There must be unity of effort by all to achieve this.
The insurgency in the North East is on the rise upon the fact that the Armed Forces is trying their best to curtail it. What do you think could be responsible for this ugly trend?
I honestly wouldn't know what is happening now. In my own opinion, President Buhari, my hero and idol must rejig the command structures of the Armed Forces to add more pep to the struggle. That is my take on the resurgence of insurgency in the North East.