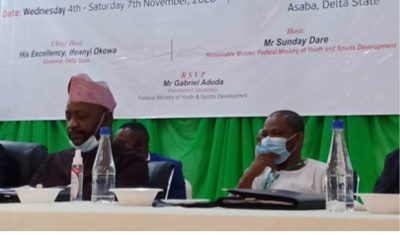 By Amaechi Agbo
For the first time in its history, the 20th edition of the National Sports Festival, NSF this year will hold in two phases.
The festival which will be held in Benin, Edo State will start from 3rd to 18th December, 2020.
However, unlike the previous ones that held simultaneously, the 20th edition of the Edo 2020 will see events hold in phases one and two.
According to report made available at the end of the three-day meeting of the National Council on Sports, NCS in Asaba Delta state, the Games village will be opened on 3rd through to 4th December while the opening ceremony will hold on the 5th.
The first phase of the competition will commence from 6th and last till 10th December.
The second phase is expected to start on 11th December with arrival of athletes and their officials and competition commences and last from 12th to 16th December, 2020.
The closing ceremony will be staged on 17th while the Games Village will be closed on 18th December.
The Minister of youth and sports development, Sunday dare who was part of the meeting in Asaba had previously hinted that due to the ravaging impact of COVID-19 in the country, the ministry would propose a staggered festival to the council.
Below is a breakdown of the festival events and phases:
Festival 3rd-18th Dec. 2020: Games village Open 3rd-4th. Opening Ceremony 5th
Competition phase 1. 6th-10th
Competitions phase (2): Arrival on 11th. Competition phase 2 from 12th-16th. Closing Ceremony 17th. Games village close 18th
Nigeria currently has 63,731 confirmed cases of COVID-19 with 59, 844 discharged while death rate stands at 1,154.
It could be recalled that the 2020 NSF was initially slated to hold from March 22 through April 1st but following the outbreak of COVID-19 in the country, the festival was indefinitely postponed on 17 March with the approval of the President Muhammadu Buhari.
Delta State are the defending champions of the festival after the emerged winners at the 19th edition held in Abuja in December 2018.
Meanwhile, the National Council on Sports have made a passionate appeal to the Federal Government to provide special Fund for the building of multi-purpose Sports Hall in all the states of the Federation as well as the Federal Capital Territory.
This decision was one of the key resolutions at the NCS meeting held in Asaba Delta State capital.
The Minister of sports, Sunday dare assured that a memo to that effect would be presented to the Federal Executive Council, FEC.
He said that states that already had mini stadium would be upgraded, while abandoned youth centres across the country would be rehabilitated.