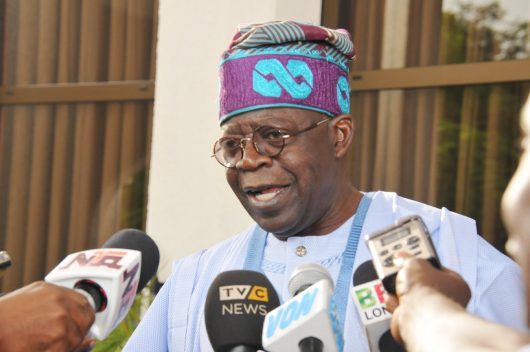 Says those plotting Oshiomhole's downfall will fail
Aggrieved govs remain my friends -APC chair
By Lawrence Olaoye
National Leader of the ruling All Progressives Congress (APC), Asiwaju Ahmed Tinubu, has said that Nigerians will not vote for the candidate of the opposition Peoples Democratic Party (PDP) Atiku Abubakar in the 2019 Presidential election.
Speaking to State House correspondents after a closed door meeting with President Muhammadu Buhari yesterday, the APC chieftain also said those plotting the removal of the party's National Chairman, Adams Oshiomhole over his handling of the party's primaries across the country will fail.
Asked what his mission was at the Villa, he said: "The meeting is about the nation, the country, our people, peace, stability and economic progress."
On whether he was jittery on the Atiku's resolve to hold a meeting with his strategists in Dubai, UAE, Tinubu said, "We don't fear; whether it's in the jungle, or is in Dubai or is in Abu Dhabi. People are free to meet and strategize in any way they form; but we are not going back to the illusion of the PDP. It is not possible. Nigerians will not do that.
"They say slow and steady wins the race. We inherited that from our forefathers and knowledgeable people. We can't go back to the pit that we inherited for 16 years. They can strategies from anywhere; but a leopard cannot change it skin."
On whether be supported the call for Oshiomhole's removal, the national leaders of the APC said, "No. We all have to respect the party supremacy. You were all here when we had the Congress. We elected the new executives. We had the convention. The NEC was formed and we surrendered to avoid conflict; to avoid
domination; to avoid abuses of power, we surrendered our rights, all rights to the National Working Committee headed by Adams Oshiomohole.
"That the National Working Committee should set up electoral bodies to supervise various state congresses and elections: We signed off for it. So, if it is not in our individual favour, so be it.
"We gave three options. Consensus. Where there is no consensus, because if you are more than two or three and you cannot agree to one candidate, you go to the next level. The next level is the stakeholders delegate; and you have to be supervised by the National Working Committee of the party, National Election Committee of the party. That shows party supremacy.
"And then the freest option, the less cumbersome, is to open direct primary, line up and count the number 1, 2, 3. If you win, you win; and if you fail, go home.
"Then Appeal Committee was set up to listen to all appeals, which was internal mechanism for conflict resolution. It was there. You cannot turn round against that. You cannot turn against all of that. No! Party is supreme; party must be respected; abuses will not do it, and anger will not do it. It is party politics. Somebody will win and somebody will lose, too bad," concluded Tinubu.
On his part, the National Chairman of the ruling APC has wondered what he did wrong by conducting the party's primaries in accordance to its laid down rules.
Speaking to newsmen on the heels of the call for his removal by some aggrieved party members after a meeting with President Muhammadu Buhari yesterday at the Presidential Villa, Oshiomhole said his leadership conducted the primary as freely and fairly as it could in all conscience.
Asked to comment on alleged plots for his removal, he said "I have no illusions. This job I am doing is not a pensionable job. But I did promise myself that if I am going to be on this job for one day, I will do it according to the rules and according to my conscience. I will be fair and just to all, and God will give me the courage and the wisdom to do his will."
The APC chair also claimed that the aggrieved governors of Ogun, Ibikunle Amosun; Imo, Rochas Okorocha and Zamfara, Abdulazeez Yari, still remain his friends.
The three governors are aggrieved because their candidates lost out in their states' primaries.