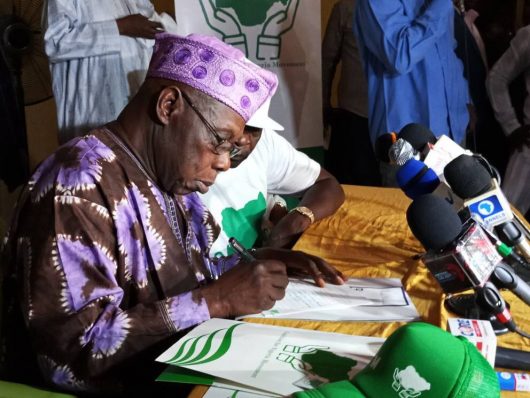 By Ignatius Arinze
Nigeria's former President, Olusegun Obasanjo, has become a sort of busy body. Obsessed with the prospects of re- election of the incumbent President, Muhammadu Buhari, the former President has been disturbing the peace of the nation by working up the political temperature of the polity and that of the citizenry, especially his supporters into a frenzy. The result is that the prevailing excitement over the 2019 elections has reached fever point several months before the polls.
The election indeed promises to be a thriller when it comes because Nigerians have all worked themselves up due to the varied interests at play, the most important being the ongoing rebranding of the former ruling party, the People's Democratic Party (PDP) which is working hard and hoping that Nigerians would give it a chance to return to power once more, after it lost the 2015 polls to corruption and maladministration.
On the other hand, the ruling All Progressives Congress (APC) which is being buffeted on all sides for not keeping faith with most of its campaign promises, tells everyone who is ready to listen that it has not done badly and needs a second term to wrap up many of the laudable things it has ongoing. The party argues further that as a party, its candidate, President Muhammadu Buhari cannot possibly rebuild in a space of four years what it took the PDP and all its majestic big men and women, 16 long years to bring to ruin.
It should be stated from the outset that those who are having sleepless nights over the 2019 presidential ambition of Muhammadu Buhari, are idle people who do not wish Nigeria well. This writer and many Nigerians wish to state and let it be put on record that Buhari is not Nigeria's problem and he has all the right in the world to contest again for a second term, as he has indicated.
A Mandela option for Buhari is ruled out as there are millions of Nigerians who are happy with his stewardship and who want him to complete his term to ensure that most of the projects and programmes that are ongoing now, are completed. The point is really that while many of his detractors and others are jealous of his achievements and worrying themselves sick about whether he should contest again or not, the gentle and soft- spoken former military General has busied himself with the issue of working to fulfil the promises he made to the Nigerian people before the 2015 polls.
The current distracting debate on the political future of President Muhammadu Buhari championed by letter writers like former President Obasanjo and former military President, Ibrahim Babangida, show the two former leaders and their misguided supporters as power hungry and power mongers. No wonder the period of their stewardship as national leaders were wasted years. While Buhari or PMB as he is fondly called by his supporters is busy working hard to improve the country, these power mongers are busy worrying about the next election.
In the usual Nigeria way, President Buhari should have been the one fretting over the 2019 polls and not these other busy- bodies because he is an incumbent and has the right to contest on the ticket of his party, before any other candidate. Being a patient and wise man, he is not perturbed. Rather he busies himself with his team monitoring and fine-tuning his policies on the economy, employment generation, infrastructure and amenities and attracting more foreign investment and capital. Being a democrat, Buhari is not parading himself as presidential candidate of the ruling APC, as the party and even Buhari acknowledge that the party candidate would be chosen by free and fair voting by party delegates at a national convention that is yet to hold.
Even for the opposition PDP, where the likes of former Vice President Atiku Abubakar have signaled interest, the date for presidential primaries at which a presidential candidate would emerge have not been agreed on. And the humble Atiku Abubakar has quietly and with a sense of responsibility been consulting across the country. This means that the people who will not contest both in the primaries of political parties towards 2019, and in the 2019 elections proper, are the ones becoming unduly worried and hysterical by the prospects of a Buhari re-run, and possible victory.
The level of concern of OBJ in the entire 2019 project has led him into plotting against the Constitution and the party system, by seeking to impose an alternative political platform known as Third Force on our political system. One hereby declares that Obasanjo's plot to scuttle the re- election of PMB by working through a Third Force is doomed and dead on arrival. No Nigerian who can reflect on his failure in eight years in office to provide at least electric power for which he spent a whopping $ 16 billion would give Obasanjo a hearing. The man should rather be in jail in more ordered societies where accountability is the watch word. Former President Obasanjo spent much of his eight years in power fighting imaginary enemies and scheming for tenure elongation. He was only prevented from becoming a Nigerian Mobutu by the alliance of honest democrats and a few men of goodwill in our land.
Second, as he is scheming to do now, Obasanjo imposed all the Presidents after him and in alliance with them, brought Nigeria to the current sorry pass. He was in Bayelsa State recently at the country home of one of the worst of the imposed leaders trying to enlist Dr. Goodluck Jonathan into the anti- Buhari alliance. It should also be noted that as he helped bring any leader to power, OBJ also immediately start to plot the downfall of the latter.
Obasanjo's misdeeds while in power indeed is disturbing him so much so that, he has recently written a second letter where he alleges that PMB is after him and is plotting to send him back to prison on trumped up charges. One wishes to state that sending Obasanjo to prison is not the immediate priority of PMB rather the latter is working on how to make Nigeria better by doing those things Obasanjo failed to do during eight years in power. If Obasanjo would be in jail however, it would not be on trumped up charges as there are enough issues of governance and looting of national wealth that can be brought up against him.
President Buhari's problem as he has often stated is the sheer enormity of the work needed to bring the country back to the path of balanced development given the damage done to the nation's economy by his predecessors in office, of which former President Obasanjo is one.
President Muhammadu Buhari deserves a break from these trouble makers in our midst who could not improve the country when they were in charge and when Nigerians viewed and treated them with awe. PMB will contest in 2019 as he has indicated and whether or not the Obasanjo opposition party likes it. The decision about his fate at the election reside with the Nigerian electorate and not with any opposition group, or self- appointed kingmakers.
Ignatius Arinze wrote from Abuja.